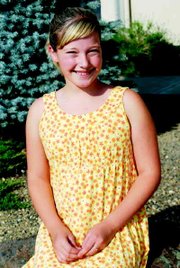 YAKIMA - Sunnyside's Hannah Bos, 11, recently competed in Yakima's Got Talent, a fundraising event for the The Seasons in Yakima.
"It was really fun," an excited Bos said, stating she enjoyed being selected from among 167 talented individuals to compete in the semi-finals last Friday.
Auditions for the talent contest took place earlier last week and Bos performed the song "Ordinary Miracle" from the soundtrack of Charlotte's Web.
For the semi-finals last Friday, she sang "Part of Your World" from Disney's Little Mermaid.
"The judges said they can't wait to see her in a Disney (production)," said Bos' mother, Brandy.
She said Yakima's Got Talent is the first fundraiser of the season for The Seasons and both her daughters enjoy singing.
"This is our sport...we don't do anything else," the older Bos commented, stating both her daughters attend Melody Lane Academy of Performing Arts in Yakima for vocal and music lessons.
The younger Bos said those competing in the contest consisted of gifted singers, dancers, pianists and an accordionist, as well as other talents from throughout the Yakima Valley.
Bos did not make it into the finals of the competition, but she said the experience was enjoyable.
"I liked meeting the judges and all the others with talent...it was really neat," she said, adding she had been a little intimidated by the large stage during auditions. She quickly overcame her fears and felt a level of "sky high" confidence during the semi-finals.
"I got to meet a lot of different people," said Bos, adding she will continue to perform and has plans to compete in Union Gap Idol during Old Town Days on June 21.
The 11-year-old Bos aspires to one day become a professional performer, and to pursue a vocal career, she believes the experiences provided through competitions like Yakima's Got Talent and Union Gap Idol will help her reach her goals.