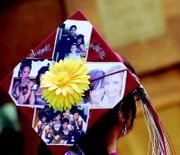 GRANDVIEW - Rich Leenhouts Stadium filled with friends and family members congratulating the Grandview High School class of 2009 this past Saturday.
Nearly 130 seniors were among the graduates, who earned their high school diplomas as well as more than $935,000 in scholarships.
Speaking before the class were the school's director of career and technical education, Steve Long, and Assistant Principal John Jennings.
Long told the class, "Don't give up...now the real education begins."
He told the graduates in his address there are many obstacles in life, but the journey is one the graduates must strive to travel.
"Today is the beginning of a lifelong journey...no matter what life brings you, take care and don't give up," said Long.
Jennings told those gathered at the commencement ceremony he had provided the graduates with a card. That card, he said, is something each member of the class of 2009 should take out each year.
It asks, "Where am I going?" Jennings said it is important for the graduates to take a moment to reflect on the direction of their lives. He said they should evaluate how they will achieve their goals and who is going to help them accomplish their dreams.
Quoting Mr. Spock of Star Trek, Jennings said, "Live long and prosper."
Sydney Mottice, the class valedictorian, instructed her fellow graduates to "live for today and strive for the future."
She said the class has left its mark on Grandview High School and the community, but it is now time for them to make their mark on the world.
"Now, it's time to spread our wings," said Mottice, stating the graduates have the opportunity to "live each day to its fullest and dream big."
Salutatorian Kinzi Poteet reflected on the bonds made by the Grandview High School class of 2009. She said the graduates have each had a number of memorable shared experiences and have learned to become like a large family.
"All of us are interconnected...we tore it up and the next step is for real...it matters," she said.
The graduates were also treated to a musical performance provided by classmates Joseph Babcock, Jacob Marquez, Trevor Gamboa and Rosario Ayala. The group performed a song that was poignant and reflective.
Principal Mike Closner introduced the Grandview High School class of 2009 and Grandview School District Superintendent Kevin Chase presented the graduates to the school board members.
Following the presentation of the diplomas the graduates celebrated with the "roller coaster" and family and friends attending the event swarmed the field to congratulate them.
The class motto was a quote from Anatole France, "To accomplish great things, we must not only act, but also dream; not only plan, but also believe."
More like this story