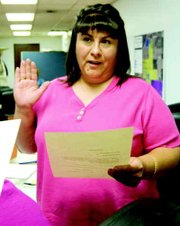 MABTON - Longtime Mabton resident Sophie Sotelo was sworn in as the city's newest addition to the city council at last night's regularly scheduled meeting.
Sotelo was born and raised in Mabton, moved away to Texas for seven years and returned home more than a decade ago.
Sotelo began attending regular city council meetings and was dismayed at the chaos in the city.
"I wanted to make a difference," she said.
Sotelo fills the vacancy left by Shelley Mireles, who was dismissed from council after missing three city council meetings without calling in an excuse.
Sotelo, selected from a pool of four applicants, served at her first council meeting last night.