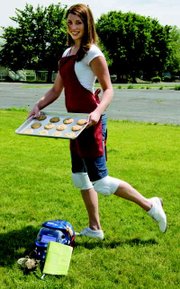 In her quest to find a community service project she deems worthy, perhaps it could be said Joyanna Bardell has stumbled upon a "true calling" of sorts.
The Miss Sunnyside candidate had been seeking direction from God as to what to take on for a service project should she be selected to reign.
"I was praying about it and the next day I ran into (Life Options Executive Director) Jan McDonald," Bardell says.
That's where she got the idea to start a Girls 180 Club here in Sunnyside, aimed at helping middle school girls navigate through one of life's most challenging times.
"There is one set up in Grandview right now," says Bardell. "Basically, the girls meet in a classroom after school and get guidance on how to handle some of life's toughest issues."
Bardell had the pleasure of sitting in on a Grandview girls meeting. What she noticed is that even though there's a set guideline available to follow, the girls basically determine the subject matter. Most recently, it was about how to handle "who I am at school versus who I am at home." Bardell was moved by the experience. "I know how I was in middle school. It was kind of an awkward time. Just to have that outlet for girls to be involved in, that'd be great," she said.
"Whether I'm crowned or not, I'm definitely going to get involved," says Bardell.
As with many other Miss Sunnyside candidates in the past, Bardell was seeking a way to get more involved in the community when it came time to toss her name into the hat for the pageant. Her parents, Ann and Tim Bardell, are community activists, too, and she was seeking the ideal way to follow their example.
"I've been looking for my niche and Miss Sunnyside looks like the perfect opportunity," Bardell said, noting that she's been going to the annual pageants since she was a young girl. "It looks like so much fun to be up there!"
Bardell is little sister to Ben, Josh and Sam, and counts sister-in-law Olya Bardell as her sibling, too.
Bardell will put her past years as a Martin's School of Dance student to good use, as she'll clog dance during the talent portion of the pageant. She's even eagerly anticipating the start of a refresher clog course this summer. "I'm so excited," she says. "It's going to be fun!"
Bardell enjoys numerous activities, especially baking. "Chocolate chip cookies are my forte," she says with a grin.
At Sunnyside High School, her favorite class is welding under the direction of Tom Dolan. "I love making things," she says, simply.
She's been involved in volleyball, Key Club, Ski Board Club and enjoys the occasional hike with her dad. "It's so fun to hear him yodeling at the top of a mountain," she says with a laugh. She is a member of the Grandview Church of the Nazarene youth group and is a regular parishioner of the Lower Valley Christian Fellowship Church on Sundays. "I also try to help out with my mom's Wyldlife Club every once in a while."
What she loves the most about living in Sunnyside is the level of community involvement by local businesses, recently demonstrated at a job fair.
"It was really impressive the way the businesses donated their time and energy to get the youth involved, get a jumpstart in the workforce."
Her sponsors for the Miss Sunnyside Pageant are Columbia River Steel and Construction, Boboth Vision Clinic and B7 Engineering.