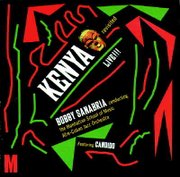 Those loving big-band style music with an Afro-Cuban flair will appreciate "Kenya Revisited Live" featuring the Manhattan School of Music's Afro-Cuban Jazz Orchestra, conducted by Bobby Sanabria.
Kenya was originally recorded in 1957 and released the following year. It featured saxophonist Cannonball Adderley and trumpet master Joe Nuemann, according to publicist Chris DiGirolamo. This recording features Candido Camero, who also performed on the original recording.
The music on this CD is upbeat and sensual, seemingly ideal for ballroom dancing with flashy hair and costumes. I picture sensuous, raucous dancing when I listen to this music.
There is a lot of chanting and clang-clanging drums on this CD.
Live, it'd be very easy to get caught up in this music and let loose.
This CD is released through Jazzhead Records, which the publicist hails as an indie jazz label with music based on improvisation.
It doesn't just have big band sound to it, it has huge band sound to it and I recommend it to dancers and jazz revelers alike.