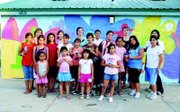 Sunnyside's neighborhoods are beginning to see some changes as the community's youth have been banding together, with the assistance of local educators, to decorate buildings and fences with murals.
The projects are all a part of Sunnyside's Promise's anti-gang initiative.
Sierra Vista Middle School art teacher Julie Kerr helped with one project last month on Gregory Avenue and this past week she has been busy working with students from her school to decorate the building at Kiwanis Park.
Chief Kamiakin Elementary School first grade teacher Sarah Deal and her students, too, have been busy working on a mural project at Sunnyside's TW Market, located on the corner of Tacoma and Harrison avenues.
That mural is a combination of artwork submitted by Deal's students. She took the art and fit it into a complete mural.
Kerr and her students are working to create a vivid mural surrounding the building at Kiwanis Park. The mural consists of the four seasons of the year, combined with the four seasons of life.
Kerr said one wall features spring, which is a time of youth. Another wall, summer, represents young adulthood, while family time is represented by autumn. Winter, on the fourth wall of the building, is the final stage in life.
She said the idea was a spur-of-the-moment inspiration by her students after an initial mural approved by Sunnyside City Council had to be scrapped.
Both educators believe the murals are a way to help improve the community of Sunnyside and reduce the amount of gang graffiti in Sunnyside's neighborhoods.
Lisa Fairbairn of Sunnyside's Promise said there are four more murals planned for neighborhoods around the community. She said volunteers interested in working on the projects can do so by calling her at 836-8417.