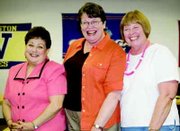 At their May meeting, Sunnyside School Board officials recognized three retirees from the district, Lynn Stover, Joanne Vining and Rachel Carrera.
Stover serves as a school psychologist, Vining as a reading specialist and Carrera retired from serving as a state recruiter for the migrant education program.
For Carrera, this meant being in the office one week out of four, and spending three nights out of five during the work week in a motel, finding migrant families, visiting with them and providing services.
"Eighteen years of traveling," is how Carrera summed up her career stationed out of the Sunnyside School District.
Stover began her career at age 21, working as a fourth grade teacher in the East Valley School District.
"I had about 35 students with no paraprofessional assistance, as they did not exist at the time," said Stover. She later went on to become a psychologist and began working in Sunnyside in 1986.
Vining has served the entire 39 years of her career in Sunnyside.
"I have had three principals and moved six times, which is pretty good," Vining said. One move was caused by a fire at Chief Kamiakin Elementary School in 1973. "I was volunteered to go to the Presbyterian church and teach until the new (school) was completed," she said.
Staff lost everything in the fire. "When you are a teacher, that is huge," she said. She later moved again when Washington Elementary School was remodeled.
Vining admired her teachers so much growing up that it compelled her to become a teacher.
She said, "I'm sure most teachers would agree that...seeing your students grow up and be successful (is rewarding). It's such a joy to visit with a student and they remember something special that happened in your room that was especially memorable for them."
Another reward is watching children learn to read.
Vining said, "The excitement of realizing that they can unlock the secret of reading is a real thrill and I have always enjoyed teaching reading the most."
Stover said that one of the biggest rewards of her job include helping children with special needs, and seeing those special needs addressed. "The real heroes, of course, are the parents and the teachers."
When Carrera was asked about the most rewarding aspect of her career, she answered, "Oh, the families! Definitely the migrant families. The ones I worked with were very humble, very appreciative."
Changes Stover has seen over the years include the growth and expansion of services to students with special needs.
"When I began as a first year teacher, special education played a much smaller role," Stover said. "We do a much better job today with better, more intentional instruction, smaller class sizes and more capacity for individual attention, better equipment, materials and technology, more support for health and social needs, and, most importantly, an inclusive approach to programming that considers the individual needs of all children with clearer focus."
One of the biggest changes Carrera has seen came later in her career. All of the hullaballoo about immigration has impacted migrant families to the point that recruiting them to address their needs and provide services is much more challenging.
Vining said no two years are ever the same. "The students are different, the country is different than a year ago and the economy is different."
When Carrera was asked what she's up to now that she's retired, without skipping a beat, she responded, "Volunteering." She's eager to volunteer at church, Life Options and anywhere there's a need for her bilingual skills to be used.
Stover is looking forward to retiring to a new home in Portland, where she will be "free from schedules to do as we please."
She'll divvy up her time between quilting and her grandchildren and, she said, "I will find a way to be involved in a local school."
Vining's plans for retirement include developing a pattern of sleeping in. "That is what I want to do the most." Once she has that down pat, she'd like to take an Alaskan cruise and visit Rhode Island for a family event.
"I am very thankful that my health is good so I can travel and enjoy life," Vining said.