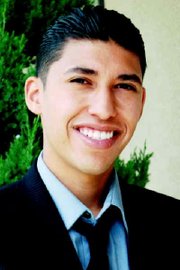 GRANDVIEW - It hasn't yet been a month since the Grandview Chamber of Commerce found itself seeking a new executive director after the short stint served by Gary Avery.
The chamber, however, was quick to act and has now named Josh Lozano to that post.
The 23-year-old is a longtime resident of the Lower Yakima Valley and recently moved to Grandview.
Lozano is a licensed real estate agent and works with DK Bain, Inc. in Sunnyside, but firmly believes in getting involved in the community he calls home.
Seeing the Lower Valley as a community in and of itself, he felt working as the director at Grandview's Chamber of Commerce would help him to work with the businesses there.
"I wanted to get involved...I wanted to step up and make a difference, not allowing poor choices by others to mar the reputation of the community," said Lozano.
Serving in the role of executive director at the chamber, for him, is an avenue to building positive connections within Grandview. He seeks to help local businesses and build an image of the city that the citizens can be proud of.
Lozano has already begun taking his role seriously, asking businesses to sponsor coming events, such as the centennial celebration and Tri-Chamber socials.
Since he accepted the post as executive director, the chamber has also adopted a new mission statement. The statement addresses adding value to local business, promoting local events and promoting tourism.
"I just firmly believe in helping the community any way I can," said Lozano, stating the way to do so is to get involved.