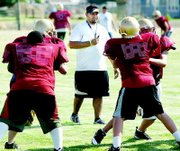 Sunnyside Christian High School didn't have to look far to find its first-ever 8-man football coach, as last month the school selected Ray Hernandez to take the helm.
Hernandez lives in Toppenish and teaches in the Wapato School District.
His past coaching experience includes four years as an assistant in the Wapato High School football program, as well as coaching for middle school programs in Mattawa and Toppenish.
This is his first experience in coaching 8-man football.
"The biggest challenge is it's wide open, you've got more field, more open space to work with," Hernandez said.
Like its counterparts around the Valley, Sunnyside Christian football will be played under Friday night lights.
Hernandez said scheduling conflicts mean that the Knights probably won't be able to use Sunnyside's field.
He said some games will be played on Grandview High School's field since most of the Greyhounds' home games are on different nights than Sunnyside Christian's.
It's also possible the Knights may play some games at Zillah High School's stadium.
Sunnyside Christian's new football program, he says, is the perfect place to start his head coaching career.
"I've been wanting to look for a head coaching position, start out somewhere small," he said. "It's a good place to be, and the Christian environment is the most appealing part of it."
Football is a good training ground for Christianity, Hernandez says.
"You've got everything as far as being disciplined, caring for others," he said of football's positive influence. "There are aspects to football that can be spiritual, combining the two like going through struggles and overcoming obstacles."
The Knights' first obstacle is gaining enough experience to be competitive once the league season rolls around this fall against the likes of Tri-Cities Prep and Colton.
"Given that the kids don't have a lot of experience, we're coming along very quickly," Hernandez said of the first week of practice.
Sunnyside Christian's football players will enjoy plenty of experience starting today, Monday, at a three-day football camp at Whitworth University.
"One of the big things is they'll get a chance to hit against someone other than themselves," Hernandez said. "It will give me a chance to see what other 8-man programs are running."
There's plenty of enthusiasm at SCHS for the program. Hernandez has 19 players signed up for the 8-man program, and they're eager to get in some hitting.
"They wanted to tackle before it was time," he chuckled.
Hernandez says he's not just looking to get the SCHS program off the ground for this season, but in building a legacy for the Knights.
"The kids are all young, we don't have any seniors. Everyone will be back next year," he said.
Hernandez is hoping Sunnyside Christian middle and elementary students will have the opportunity to eventually participate in a Grid Kid program. Even if it's a flag football program, that'll be a start, he says.
"The thing is to start teaching the fundamentals, running the same things we do at the high school," he says.
It would essentially be a feeder program for SCHS football, much like Sunnyside and Grandview high school teams benefit from middle school and Grid Kid football programs.
Beyond the gridiron, Hernandez wants to impart lifelong spiritual values to his players.
"We're going by a slogan of building a tradition," he says. "We're going to honor God, others and ourselves."