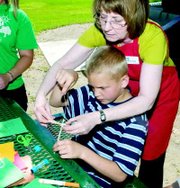 MABTON - Eight-year-old Joe Maciel wanted something to do on warm Monday morning and Yakima Valley Libraries had just the thing.
Partnering with Allied Arts of Yakima Valley, the Mabton library sponsored an event at Mabton's Feezell Park that encouraged Mabton youngsters to explore their creative side by making mobiles.
Mobiles are dangling sculptures that hang as a decoration. They can even be used as educational tools.
Made famous by Alexander Calder, mobiles are groups of suspended, three-dimensional items that have several smaller objects hanging from crossbars.
Christi De Lozier, a teacher at Allied Arts, laid out cardboard, paper, markers, glue and sticks. The half dozen or so youngsters who attended the class then went to work.
"The kids decided how they want to create them and how they will look," she added.
Barbara Toop, a public program and resource specialist with Yakima Valley Libraries, said this event was designed to keep the students coming to the library even though they are on summer break.
"We try to choose something that will appeal to a large variety of kids," she said. "We like to engage the children in interesting and meaningful activities. This also helps with their reading skills. We give them something fun to do that brings them into the library."
The basic idea in creating a mobile is to have the creation balance. By doing this, De Lozier said the students were learning about movement, form and balance.
"By constructing the mobile they are seeing what materials are heavier or lighter,' she said. "They must figure out how to balance it out by using different shapes and sticks."