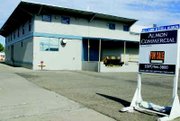 Driving through Sunnyside it's fairly easy to spot old, worn down buildings, sitting on land that hasn't seen a lawnmower since the days of the old Ben Snipes beard growing contests.
The percentage of unkept properties is low, most agree, but local officials would like to see all properties maintained.
"It helps to keep property values up," said Mike Storms, building official for the city of Sunnyside. "It just makes it better for a city when people maintain their property."
If a person is living on their piece of land chances are higher that the property will be maintained. But what happens when the home or commercial property is vacant?
When property owners don't maintain their land or the buildings on them when they are vacant it can lead to unsafe situations. Old, abandoned, unsafe buildings are a magnet for young teenagers and the results are more often than not an even more unsafe building, this time covered in graffiti.
Storms said that with the recent economic situation city governments are tightening their belts, leaving less room for building inspectors to police these unsafe buildings. When the owners keep up their own property, it takes pressure off the city.
"Some do, some don't," Storms explained. "Those who don't maintain their property do drive down property values. When the property looks nice it does help to sell it.
"When someone does take care of their property it's kind of contagious," Storms added. "It just takes off in these neighborhoods."
Jay Hester, property, development and project manager for the Port of Sunnyside, agrees with Storms about the importance of maintaining property.
He specifically points out the efforts of Sunnyside's Johnson Fruit, which recently gave one of their unused buildings a new facelift.
"In my opinion, as far as economic development in Sunnyside goes, it really helps when a business as large as Johnson Fruit maintains and keeps up their buildings," Hester said. "It says a lot for someone to spruce up their business. I think it's great. I commend them for it."
Hester added that the building Johnson Fruit cleaned up and repainted is for sale and that by maintaining the property it has made it that much more marketable.
Hester also pointed out that maintaining properties helps both the city of Sunnyside and the Port of Sunnyside in the long run.
"It helps the port bring in people and attract business," Hester said. "When you drive through the community it's nice to see someone freshening up their place.