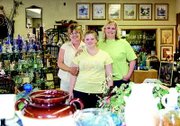 GRANDVIEW - Little did she know when she opened her Christian thrift shop that within three months she would help 40 to 50 families in need.
But that's the situation One Stop Thrift Shop owner Jo Osborn has faced and now she's created a pay it forward program called "Community Connection."
In order to make it a go, though, she's calling on fellow business members and individual community members to help.
Community Connection is a ministry that works in a myriad of ways.
"We're a non-profit organization that helps families in crisis," said volunteer Cindy Crawford.
If an individual needs assistance, then that person is asked to donate two hours of community service.
"People have to pay it forward to another community member in some way, whether it's pulling weeds for seniors, painting over graffiti or folding clothes for us," Osborn said.
As an example, if a father is out of work, two hours of volunteer time doing home repairs or yard work for the elderly will earn him a voucher for household items or clothing for his family. If a pregnant woman needs a layette, she must attend parenting classes.
The program is growing so rapidly, Osborn said sometimes it's tough keeping up.
"I need help," she said. "I can't do this on my own. I'm getting about 100 phone calls a day." She added that about a dozen people in need visit the store every week.
One thing that has been surprising to Osborn is that some people that call on the One Stop Thrift Shop for help walk away when they are told that to participate in the pay it forward program, they have to volunteer community service.
Overall, though, she said that community support has been great.
Local businesses have been donating items to raffle, which is raising funds for Community Connection. Ace Hardware donated a leaf blower, Anderson Chiropractic donated two weeks of service, Grandview Lumber donated a gift certificate and many salons in Grandview have donated haircuts and products.
Crawford said she's hoping other local businesses will donate $50 to $100 to the program.
"If (they did that), it'd fill our coffers for six months," she said.
So far, they've assisted one mother of five who's eight months pregnant with her sixth child. She's single. They've helped get her electricity turned back on, given her $25 in food donated by Safeway and have gotten her legal aid.
Osborn said she often loses sleep at night, not because she's battling an illness but because needs are so great in the community.
"When someone comes in in tears and they're hungry (it's hard)," she said.
But she's a firm believer in Proverbs 11:25, "A generous person will be enriched and the one who provides water for others will himself be satisfied."
Osborn and Crawford noted that the Salvation Army in Grandview will soon close, which will likely increase the amount of people they serve.
They remain undaunted, however, and are working hard to boost the Community Connection coffers.
There are criteria to meet in order to receive Community Connection help. Individuals can qualify for help if they are financially at the government poverty level or are facing sudden long term unemployment. Those who are disabled qualify for help, as do those who receive food stamps or welfare. An emergency situation is a qualifier too.
Osborn said the community can help by donating either funds or used items. She said she will pick up unwanted items left over after a yard sale, too.
"We'll go pick stuff up and clean up the mess," she said. She said she wants donated items to stay in town. That's important to her.
Things were pretty rough for a while after she started the Community Connection program, she said.
"I was overwhelmed. I had people that needed help and my funds were beat up.
"Then people started pulling together," she said.
Now she'd like to see that support continue and grow.
For more information, visit the store at 100 West Second Street.