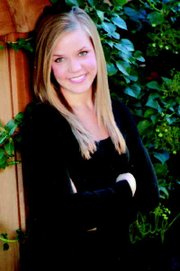 Sunnyside Christian High School class of 2009 graduate Kristen Van Wingerden recently became a member of the National Fraternity of Student Musicians.
She completed a 10-year program of performance as a piano student of Marilyn Linde to obtain the honor.
The National Fraternity of Student Musicians is sponsored by the American College of Musicians, of which Linde is a member.
The program completed by Van Wingerden involved the memorization of 10 music pieces each of the 10 years she has been a student. Each of those pieces was evaluated and given high ratings. They included selections from baroque, classic, romantic and contemporary genres.
In addition, Van Wingerden had to exhibit expertise in sight reading and transposition of musical numbers.
Linde also had a number of other students, including Asia Rose Aguilar, Rosemary Porter, Meribeth Grabner, Elisa Grabner, Konrad Grabner, Tara Van Corbach, Jessica Linde, Erica Linde, Taite Rice and Matthias Rice, audition for the National Fraternity of Student Musicians program.