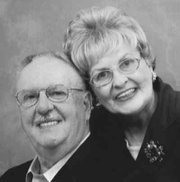 Grandview's Bob and Sharon Wiersma celebrate 50 years of marriage this coming Friday, June 19.
The couple, formerly of Lynden, will celebrate with a family dinner at Sunnyside's Snipes Mountain Restaurant and Microbrewery.
The Wiersmas were married June 18, 1959 in Sumas.
Greg and Patsey Wiersma of Sunnyside, Shelley and Dave Leenders of Lynden and Jeff and Julie Wiersma of Outlook will celebrate this momentous occasion with their parents, as will the Wiersmas 10 grandchildren and five great-grandchildren.
The Wiersmas' are retired but for many years the couple owned and operated the Sunnyside Livestock Market.