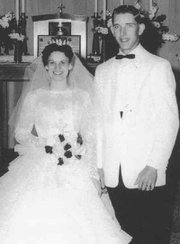 Don and Mary Wolff will celebrate their golden wedding anniversary at their daughter's home in Sunnyside on Sunday, June 21.
The Wolffs are currently enjoying retirement by traveling in their motorhome. Each summer, they return to the Lower Yakima Valley.
The couple has five children, Patty Denson of Sunnyside, Rick Wolff of Olympia, Valerie Reeser of Kennewick, Beth Denson of Spokane and Tim Wolff of Pueblo, Col. They have 12 grandchildren and 10 great-grandchildren.
The couple was married on April 4, 1959 in Mabton and are life-long area residents.
Mr. Wolff is a retired Hanford patrolman and Mrs. Wolff worked for many years at Andrus & Roberts and was also a homemaker.