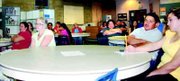 MABTON - Parents in the Mabton School District, primarily those of Mabton High School students, participated last night in a community forum to discuss the idea of imposing a school uniform policy.
The idea, said Principal Jay Tyus, is one developed by Raising Student Voice and Participation students at Mabton High School.
He said the student leaders discussed the idea at the beginning of the 2008-09 school year and some of those students began wearing their version of a school uniform to school as a result of the discussions.
"They wanted to show others what wearing a uniform would be like," said Tyus.
He said the student leaders initially wanted to save money on school attire and felt it would present a good image of the school.
Tyus informed parents school uniforms are not being proposed as a solution to an issue, such as a gang problem.
"Gangs are not an issue at Mabton High School," he said.
Instead, the students and staff at the high school believe modesty and self-confidence are issues needing to be addressed at the school.
Tyus said the desired outcome of implementing a school uniform policy is for students to feel a sense of pride in their school.
"Yes, we have students from outside our district in the school, but they are approved by the district," he said, addressing concerns as to whether or not outside influences are bringing with them problems related to gangs.
The uniform policy, said Tyus, might discourage others from wanting to attend Mabton schools. It may even attract some students due to the perceived safety associated with school uniforms, he added.
The students involved in the Raising Student Voice and Participation program visited Wahluke High School, which requires uniforms, to further explore the idea and how it might affect students in Mabton.
"Wahluke did have a problem with reds and blues," said Tyus, saying again that gangs are not the issue at Mabton High School.
Tyus said he has also met with a distributor to obtain ideas regarding the types of uniforms that may be available and the possibility of financial assistance for parents concerned about the cost associated with having to purchase school uniforms.
At that point a parent asked why the school doesn't enforce the dress code policy already in place, given the reasoning that modesty is an issue at Mabton High School.
Tyus said it is often easier said than done. He provided an example, stating a student had been requested to put on clothing more appropriate for school. The teacher, who happened to be a male, was accused of being a "pervert."
"Most of our teachers are men...they are put in an uncomfortable situation when they have to address modesty issues," said Tyus.
At that, another parent suggested the school call the parents of students not dressed appropriately.
Tyus' answer to that was that not all parents find it important that the student dresses according to the policy and the issue would be removed from the equation if a school uniform policy was in place.
There are other advantages, too, requiring school uniforms, said Tyus. He cited a situation this past school year when four individuals walked through campus going unnoticed.
He said the individuals appeared a little different, but otherwise blended in with the student body.
An alert Mabton police officer noticed the individuals as they exited the school and detained them. At that point it was discovered the individuals were wanted by authorities.
With school uniforms on each of the students in the school, Tyus said those individuals would have stood out and been noticed sooner.
Also, a student wearing a uniform would be more easily noticed if they were off campus during school hours. Wahluke, according to Tyus, experienced better attendance by its students for this reason.
The Raising Student Voice and Participation students furthered their research this past school year, conducting a survey taken of those attending spring conferences.
That survey resulted in positive feedback from parents. Tyus said there are 220 households represented at Mabton High School. Of those, 145 surveys were answered by parents. An overwhelming 126 parents surveyed said they are in support of school uniforms and said they would support such a program if it was implemented.
The downside...not all of those parents attended last night's forum. Approximately 30 parents did attend. Of those, the majority was not committed to the idea of implementing a school uniform policy.
Those parents who were in attendance last night felt it would be wise to gather more data and conduct further discussions before a decision is reached.
Those attending last night's forum want to know more about the options that will be made available for financing and the uniforms from which to choose.
They also want Tyus to provide them data regarding the advantages and disadvantages of school uniforms.
The school uniform policy is not up for debate for the coming 2009-10 school year, therefore the parents felt discussions and better communication between the school and the rest of the parents in the school district should take place throughout the coming school year.
"What is important is if we do it, we do it well...this is not the mountain I want to die on," said Tyus, assuring parents the idea of implementing a school uniform policy is open for dialogue and he wants all parents to feel their input is valued.