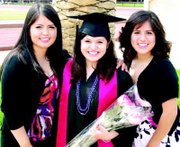 They were inspirational as students at Sunnyside High School, and both Lizeth Chiprez and Michael Alanis continue to motivate others in the pursuit of a college education.
The duo graduated from Sunnyside High School in 2005. This past Sunday, they both received their Bachelor's degrees from Stanford University in Palo Alto, Calif.
"Lizeth has knowledge, skill and attitude...everything you would want in a great kid," said Greg Herrera, Chiprez and Alanis' former high school counselor.
Alanis, he said, is motivated and seeks out challenges.
The pair motivated one another throughout their careers at Sunnyside High School. Both graduated with a grade point average of 3.99.
Chiprez, while at SHS, was always seeking opportunities to help her fellow classmates succeed. She formed a program called Ahead. That program took place after school and helped students at the high school prepare for college and standardized testing.
Alanis, too, assisted with that program. He wanted students at SHS to realize pursuing an education beyond high school was something they could obtain.
Chiprez, a Gates Millennium scholar, applied to 14 universities, including Harvard. Stanford was, however, her first choice and once accepted, she set out to continue seeking ways in which she could be involved in helping others achieve their dreams.
Her example helped motivate her older sister, Wendy. The older Chiprez, too, graduated from college this past weekend. She graduated with a Bachelor's in economics at Central Washington University.
Herrera said the older Chiprez saw her younger sister reaching out and accomplishing her goals. That had the older sister thinking she, too, could accomplish her dreams if she was willing to work for it.
"Lizeth didn't just sit back once she got to Stanford," said Herrera, stating Chiprez immediately sought out ways in which she could get involved in the community she would be calling home for four years.
She took charge of the Stanford Fund for Chicanos/Latinos in Health Education and was the financial manager for Casa Zapata, her dorm on campus.
Chiprez also was a coder in the Stanford emotional coding lab in the department of psychiatry and behavioral sciences.
Alanis was also very involved at SHS and once he became a student at Stanford University.
His dream has been to pursue a medical career. He decided to attend Stanford after receiving an acceptance to Rice University in Houston, Tex. and weighing the benefit of living closer to home.
Chiprez's parents came to the U.S. when they were teens and Alanis' parents moved to the states when he was two.
Their parents set examples of hard work and sacrifice that provided a strong foundation for the youngsters.
Alanis took his parents' example and worked diligently to obtain the educational foundation necessary to attend a prestigious university like Stanford.
He feels strongly that the key to obtaining one's goals is working for them...so much so that when in high school he earned an A minus in calculus, he took the class again to earn an A plus.
"My parents taught me to keep on going...if you fall down, just get up," Alanis said.
That philosophy has helped him obtain his Bachelor's degree in human biology from Stanford.
While studying for that degree, Alanis enjoyed being involved in conducting research. He was a member of a team of researchers at University of California at Berkley in the mechanical engineering lab and spent two years researching obesity weight loss at Stanford.
Alanis also continued to pursue ways in which he could help youngsters with academics. He coordinated Barrios Systems, a tutoring program for youngsters in Palo Alto. Those children were brought to the Stanford campus for the purpose of studying with the assistance of Alanis and the other college students involved in the program.
Chiprez also went beyond the spectrum of sticking to her academic studies, traveling abroad to learn more about political science in Chile and Berlin.
She became involved in a program with the Department of Justice in Washington, D.C. That program took place during the 2008 elections and Chiprez was provided the opportunity to ensure voting rights for individuals in Texas.
While in Chile, she worked with low-income entrepreneurs. She helped them learn to become more profitable.
"I think it is important to set a good example for others, especially family members...showing that, in spite of possible obstacles, anyone can achieve what they set their mind to if they are willing to put in the effort," said Chiprez.
Her parents helped her learn from an early age that if she worked hard for her academic goals, they were willing to provide for her in whatever way possible.
Chiprez will further her education in the coming academic year in pursuit of her Master's degree in education.
She hopes to establish a charter school for the underserved, who don't always fit into the traditional public school system.
At some point, Chiprez hopes to become more involved in politics.
Alanis is taking a couple years off from school, with hopes of eventually obtaining his medical degree to one day become a researcher.
During his break, he wants to work for a community organization, such as Yakima Valley Farm Workers Clinic or another health-oriented non-profit program.
The pair also intends to keep helping other students pursue their educational goals.
They have arranged to work with students at Granger High School. Chiprez and Alanis will help those students prepare for SAT exams and college preparations.
"I enjoy helping those seeking a college career," said Alanis.
Chiprez agreed, stating she feels a sense of accomplishment seeing others accomplish their goals when they once did not think it was possible.
photo courtesy of Greg Herrera
Gathered for this past Sunday's Stanford University commencement are (L-R) Wendy, Lizeth and Elvira Chiprez. Lizeth graduated from the university, having earned her Bachelor's degree in political science. Wendy graduated last Friday from Central Washington University and Elvira graduated with Sunnyside High School's class of 2009. She will be attending the University of Washington in the fall.