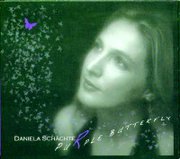 Sultry and seductive...that is how I would describe the voice of Daniela Schachter, who recently released "Purple Butterfly."
Schachter's jazz style is creative and refreshing, so much so that many music lovers will want to purchase this CD.
Jazz enthusiasts, however, might enjoy this vocalist and her piano style because she combines traditional sound with those of more progressive artists.
Put me in a jazz lounge and give me a few Shirley Temples. Let the cigar smoke waft about and I am there with Schachter as she holds the mic next to the pianist belting out the tunes on this CD.
She is melodic enough to provide listeners with the classic appeal of a blues artist, but the beat is most definitely more up tempo.
In the title track, Schacther provides listeners with an allegory of the butterfly that never stays in one place. This is a direct symbolization of a person who cannot settle for long...one who finds it difficult to find the peace they seek in life. She asks why this person cannot smile in the darkest of nights.
It is a sad song, but insightful.
Schachter began performing in Italy in her mid-teens. She studied with artists like Phil Wilson, Joe Lovano, Joanne Brackeen and Hal Crook.
She was the 2005 winner of the Mary Lou Williams Jazz Piano competition and has gained notoriety in jazz circles.
Schachter has also performed at numerous jazz festivals and has been featured at the Blue Note with the Tiger Okoshi Quartet. The Boston Pops and Patti Austin performed with her at the Symphony Hall, and she has been a featured performer at the Hollywood Bowl.
She has two other CDs, "Quintet" and "I colori del mare," available on www.cdbaby.com.
"Purple Butterfly" features fellow jazz artists Alex Sipiagin on the trumpet and flugelhorn, Joel Frahm on the tenor saxophone, Massimo Biolcati on the acoustic bass and drummer Quincy Davis.
It is available on www.cdbaby.com for $15.
More information about Schachter can be found on her website (www.danielaschaechter.com).
For those looking to expand their jazz collection, I recommend this latest Italian import. It is sure to bring about sensual moments in your life.