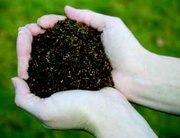 OUTLOOK - Besides producing enough power to generate electricity for 600 to 800 homes, cows at the George DeRuyter and Sons Dairy are producing Enviromoss, an alternative to peat moss.
Enviromoss is what's left of cattle waste after an anaerobic digester converts the waste into power.
Dan DeRuyter helps run the dairy and he said there has been more of a push this year to market Enviromoss. That's because the dairy had to develop a system to condition the raw peat moss the digester produced to make it suitable for gardens and crops.
The good news for the dairy is that it has found buyers for the Enviromoss product.
It's available right here in Sunnyside at Ace Hardware, as well as Morton and Sons in Yakima and Beaver Bark and Rock in Richland.
On the down side, DeRuyter says it's a little tough to break into the commercial ag field with the peat moss because crop growers and nurseries tend to have products they're accustomed to using. He says many are currently testing Enviromoss to see how it works with their crops and plants.
Even so, Enviromoss is finding a niche with gardeners and hobby farmers as it's available as far away as Seattle, Spokane and Portland, Ore.
"It's generating some cash flow," DeRuyter said.
Not only is Enviromoss generating green, in these environmentally aware days it's also a green product.
Enviromoss, dubbed "the next generation of peat moss," is considered a renewable resource because it is generated through a recycling process.
DeRuyter said regular peat moss is acquired through what he said is essentially a "strip mining" operation in which the material is removed from peat bogs, some of which are 100 years old.
Enviromoss, DeRuyter says, has another advantage over typical peat moss in that it absorbs water better.
He said the product can be used on established lawns, as well as for vegetables, annuals, perennials, trees and shrubs.
It's taking time, but DeRuyter said the dairy is working on getting the word out about Enviromoss.
"We're letting people know it is a valuable resource," he said.