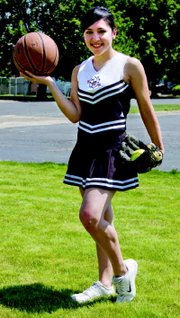 Being a good role model for her little sister is the impetus behind Mercedez Cantu's bid for the Miss Sunnyside crown.
In fact, Cantu counts herself fortunate in that she holds her large family dear.
"We have a strong family," she says. "We all stick together and help each other out."
This means many large gatherings for barbecues at her grandfather's home and spending quality time with her mother and father, Tony and Janie Gutierrez-Cantu.
Not only is she big sis to Destiny, 11, she's little sister to Esme Cantu, 27, Tony Jr., 22, and Adriana, 19.
While she says she was a daddy's girl when she was little, the 16-year-old now finds herself in a close relationship with her mother.
"My mom is like my best friend," she explains. "I tell her everything that happens. She gives me good advice and I know I can depend on her."
That strong commitment to family spills over into the idea for her community service project should she be selected to serve as Miss Sunnyside.
"I want to work with foster children," she says.
She has a personal insight into children who do not live in the home they were born into. "My cousin has had to move around from house to house in our family." At one point, she says, her family almost adopted another little girl within the family.
"I want to promote foster parents and raise awareness of the difficult challenges foster kids face."
She said the Miss Sunnyside Court can help by assisting with activities that take place between DSHS personnel, foster kids and families, as well as promote awareness. "They do a lot of activities," she says.
Having a penchant for pageants runs in the family, too. Her cousin, Audree Cantu, is a former Miss Granger.
"She's not really shy, but I am kind of," admits Cantu. "I'm really impressed with her."
The Sunnyside High School student has enjoyed sports, like volleyball, basketball and softball, and is currently a cheerleader and in the Pep Club.
For college, she'd like to go to the University of Washington.
"I don't want to go too far away," she says. "I want to be close to my family." Close she will be, as some of her siblings live in the Seattle area. Cantu is anticipating a career as a dental hygienist.
Cantu says that her favorite thing about living in Sunnyside is the seemingly boundless opportunities to get involved. Not just for the young and old, but "especially (programs offered) to keep kids out of trouble."
For the talent portion of the Miss Sunnyside Pageant, Cantu is mulling a skit or contemporary dance. "I'm comfortable with either. I'm still debating, but leaning more toward the skit because I'd rather just be myself more than anything else."
Cantu's sponsor for the Miss Sunnyside Pageant is the Hernandez Law Firm.