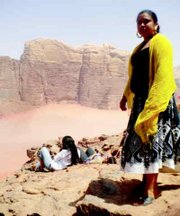 Evergreen State College graduate Vanessa Alviso recently spent nearly two months in Egypt and Jordan, where she interned at an agency highlighting the plight of child trafficking.
The Lower Valley native went to school in Granger and Sunnyside before graduating from Granger High School in 2005.
Although she had spent most of middle and high school in Sunnyside, Alviso had lived in Granger before and felt more of a draw to that city.
"It felt more like home so I wanted to graduate from there," she said.
Alviso has been involved with MEChA since she was 16 and although she attended Eastern Washington University for two years after high school, it was Evergreen State College's chapter of MEChA that ultimately led her to attend that school over EWU.
"Evergreen really stood out," she said of the campus. "I had also developed a strong relationship with the MEChistAs there. The students were actually working in the community translating and stuff."
Alviso graduated from Evergreen State College June 12 with a liberal arts degree with an emphasis in Chicano youth identity. Before she graduated she took a class that focused on humanizing the eastern world for westerners by using art, journalism and photography. It was this class that enabled her to travel to Egypt and Jordan.
Alviso interned at the Egyptian Department of Human Rights, where she worked to bring awareness to child trafficking.
"It was pretty depressing," she said.
Alviso said she did a lot of research into the subject for both the agency she was interning for and the United Nations. She then compared the information and put together brochures on the subject. She did this for about four weeks.
Alviso had mixed feelings about her time in Egypt, preferring Jordan more. It wasn't that she didn't enjoy her time in Egypt but according to her, "I'm a country mouse that went to Cairo."
Being in the Lower Valley her whole life besides a stint in Olympia, Alviso found herself overwhelmed by the smells, sights and sounds of big-city Cairo.
She eased her mind by taking daily visits to the famous Khan Al-Khalili market, a bazaar that is hundreds of years old. In the Lower Valley Alviso and her family used to take trips to the flea market in Toppenish.
"Khan Al-Khalili is like a huge flea market," she said. "I felt comfortable there. The people were amazing."
Her daily trips to the market soon had people calling out her name. She used her new friendships to collect narratives for her class.
"I brought back stories that a 16-year-old here could relate to," she said.
Alviso spent some time sight-seeing in Egypt and visited several tourist spots in Jordan. She began her journey in early April and came home in late May.
Alviso is now planning on picking cherries until she can find a job suited to her degree. She is applying for the position of GEAR-UP Coordinator for the Yakima School District.
"I have been working with youth and I want to continue doing that," she said. "I want to spread the message to people of color that anyone can go to college."