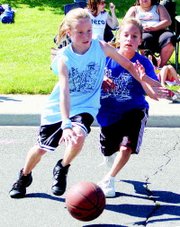 GRANDVIEW - A portion of Grandview's West Second Street was turned into a hoops haven this past Saturday for the 16th annual Grand Hoops Fiesta 3-on-3 basketball tourney.
The tournament is limited to players ages seven to 14.
A total of 33 teams from around the Valley turned out for the tourney, an increase from the 29 teams that participated last year.
Following are the first and second place teams with players names from each division of play:
9 & 10 Girls
1st: Prosser's Future: Elissa Saldana, Emma Schutt, Rosie Flores and Jamie Fassler.
2nd: Mabton Sparks: Rikki Zavala, Michelle Zavala, Riley McCallum and Alexis Herrera.
11 & 12 Girls
1st: 4 Real: Jessica Galvan, Natalie Hernandez, Tiana Perez and Mireya Herrera.
2nd: Fresh Future: Mia Flores, Alyssa Nash, Cassidy McCallum and Selena Rubalcava.
7 & 8 Boys
1st: Triple Threat Ballerz: Marcus Maldonado, Monti Ruiz, Peter Ramirez and Ryan Hernandez.
2nd: Lil G-Town Ballerz: Christian Trevino, Julian Trinidad, Cody Vance and Derrick Escamilla.
9 & 10 Boys
1st: Lower Valley Ballerz: Jalen Fonseca, Nico Garza, Santana Saiz and Isaiah Strom.
2nd: Lil Grizz: Aruturo Palacios, Diego Garza, Trey Sanchez and Ismeal Zavala.
11 & 12 Boys
1st: G-Town Dawgs: Kobe Schrank, AJ Trinidad, Jay Armendariz and Sacramento Lopez.
2nd: Young Unz: Spencer Heitzman, Jaime Chavez, Brock Ribail and Derek Marez.
13 & 14 Boys
1st: Can't Handle: Isaiah Ruiz, Fabian Ruiz, Isaiah Gonzales and Isaac Lopez.
2nd: S'side Slama Jamas: Isiaha Rodriguez, Ryan White, Dylan Cervantes and Cody Gamboa.
In other Grandview Hoops Fiesta results, the following three-point shooting contest champions were announced:
7 & 8 Boys-Peter Ramirez
9 & 10 Boys-Isaac Sarmiento
11 & 12 Girls-Bridget Webb
11 & 12 Boys-Estevan Martinez
13 & 14 Boys-Fabian Ruiz
15 - 18 Boys-Rogi Fajardo
Adult Female-Gretchen Chronis
Adult Male-Miguel Ruiz