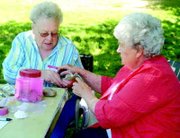 It's been an annual event in Sunnyside since anyone can remember. That tradition is the Pioneer Picnic at Central Park, which was held this past Saturday.
Pat Kezele is a board member for the Sunnyside Museum, and she says the picnic provides the community a "sense of continuity" from year to year.
The picnic draws not only Sunnyside residents, but Sunnyside natives from along the West Coast and alum from the high school.
Mildred Moran was recognized as the oldest person in attendance at the picnic this year, which drew a crowd of about 100 people.
"I remember when I came here there were 1,300 people," said Moran, who moved to Sunnyside in 1946.
There have been changes over the years in Sunnyside besides the population, which has grown ten-fold over the past 60 years.
Pat Maynard is a life-long Sunnyside resident. She recalled there have actually been three swimming pools built and replaced over time in Sunnyside, and all developed at the same Central Park location as the current pool.
"We used to live in it," Maynard smiled as she recalled summers at the pool.
Pat's sister, Bev Ice, said the annual picnic tradition comes down to the basic idea that "it's just all of us getting together over old times."
Saturday's get-together included "Taps" played by Bob Jones in honor of those who have died over the past year.
Also, Wade Drysdale was recognized as being from the oldest SHS graduating class, the class of 1937.
Bill Flower served as an emcee for the event and announced there is room for more board members on the Pioneer Picnic board. He said new faces are welcome on the board as a way to generate new, "fresh" ideas for the annual picnic.