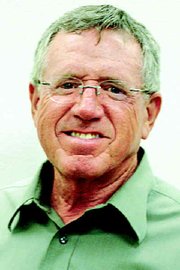 The Sunnyside City Council last night, Monday, began picking up the pieces to re-staff city hall by naming Bob Noland as interim finance director.
Noland, a retired support services director for the city of Kennewick, is affiliated with the Prothman Company, a Bellevue-based company that provides interim administrative support.
Under the contract with Prothman, Sunnyside will pay Noland a monthly stipend of $1,000 plus $50 per hour. The city will also pay Prothman $18 for each hour Noland works.
Starting today, Noland will work out of the finance director's office at city hall. The previous finance director, Jordan Arreola, quit after former City Manager Eric Swansen was fired.
Rather than commute to Sunnyside from the Tri-Cities, Noland will stay in town at a local RV park during his temporary employment at city hall.
Noland's accustomed to the life of an interim city employee, having previously worked for Prothman as a temporary finance director for Tukwila last year, as well as previous short-term administrative stints at Battle Ground, Union Gap and Othello.
Though he's on an interim basis now in Sunnyside, Noland figures he'll be here for a few months at least.
With council desiring to hire a city manager before bringing on a permanent finance director, Noland estimates he'll be in Sunnyside through at least preliminary budget discussions.
Noland's hiring was recommended last night by interim City Manager Jim Bridges.
In other moves last night, Sunnyside agreed to hire Kathleen Hitchcock for additional prosecuting services.
Hitchcock currently serves as prosecutor for Sunnyside Municipal Court on Tuesdays. Former City Attorney Mark Kunkler had previously served as prosecutor for two Thursdays a month that the court is open.
Kunkler quit in response to Swansen's firing and last night council agreed to have Hitchcock work the two Thursday's a month in addition to the Tuesday court dates.
Hitchcock's salary with the city will increase from about $1,900 a month to $2,200 a month for the two additional court dates each month.