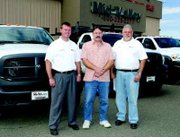 GRANDVIEW - There is a great need for commercial vehicles in the west coast region. It's a region that covers nine states...Alaska, Washington, Oregon, Idaho, California, Nevada, Utah, Arizona and Hawaii.
Thanks to a solid team effort from the commercial sales division at Mid-Valley Chrysler Dodge Jeep in Grandview and robust commercial vehicles sales in the Lower Valley, Mid-Valley climbed to No. 3 in commercial sales for the west coast region for the month of May.
The team from Grandview was in second place, only to auto giant Dave Smith, but was knocked down to number three on the last day of May by a dealership in California.
Still, to come in No. 3 out of more than 70 Chrysler Dodge Jeep dealerships is a testimony to the Lower Yakima Valley dealership.
"It's a tribute to how strong our economy in the valley is," said Brandon Christensen, vice president and general manager of Mid-Valley Chrysler Dodge Jeep. "It also shows how hard Frank and his team worked to accomplish this."
Frank is Frank Allec, the businesslink account manager and outside sales consultant at Mid-Valley.
Allec, who has been with Mid-Valley for almost two years, said the Grandview dealership made a commitment to the commercial side of vehicle sales and became a businesslink dealership in the spring of 2008.
By doing this, Mid-Valley Chrysler Dodge Jeep became the only dealership service department facility within 200 miles authorized to service the Dodge commercial trucks, including the 4500 and 5500 series.
"The service department has really set the table for us," Allec explained. "Before, people had to take their vehicle to Spokane or Seattle. Now they can come to Grandview.
"The service department takes care of these vehicles and that opens the doors for us," Allec added. "We're able to get the information out there about what we can do."
Officials at Mid-Valley reap praise on Allec for getting the commercial sales department to where it is. In a press release issued by Mid-Valley Chrysler Dodge Jeep, Allec was lauded for his understanding that a growing business requires complete trust of its support system, with the goal to save the business time, money and hassles.
The No. 3 ranking in sales is the highest for Mid-Valley since they became a businesslink dealership and Allec and Christensen believe that as the economy gets better sales will continue to improve.
"It's really quite an accomplishment," Christensen said of Allec's work. "Frank spearheaded the whole deal. He's done a great job with it."
"It feels great," Allec said of being No. 3 on the west coast. "It's great to be in that position."
But Allec quickly points to the vision of Christensen and the work of the service department. To him it's a team effort.
"Commercial sales bring in retail sales," Allec explained. "For every one commercial sale it has a domino effect and can bring in an additional three or four retail sales from family members, friends and employees."