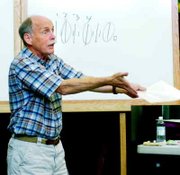 Eleanor Ruth Birchard, 90, of Sunnyside passed away Friday, June 19, 2009, at Hillcrest Manor.
She was born Sept. 26, 1918 in Vancouver, the daughter of John and Ragna Johnson.
In 1940 she married Clifford Burton Birchard. They lived in Vancouver until 1953, when they moved to Sunnyside with their four children.
Eleanor was a life-long Lutheran and a charter member of Our Saviour's Evangelical Lutheran Church in Sunnyside, where she remained active until her health declined two years ago.
She worked as a secretary at the Sunnyside Credit Bureau, Bert's Excavating and Cliff's Septic Service.
After retiring, she enjoyed traveling, including trips to the beach, England, Germany and Norway. She also enjoyed knitting for friends and family, as well as for RSVP which she did for 21 years, gardening, church work and a life long love of music. She also enjoyed volunteering at Hillcrest Manor.
She is survived by her children, Pat (Sam) Parker of Sherwood, Ore., Barbara (Bob) Bannister of Woodburn, Ore., Donna (Wally) McMinimee of Outlook and David (Donnita) Birchard of Aurora, Colo.; her grandchildren, Pam (Wayne) Harrel, Sandra (Joe) Villegas, Eric (Paula) Parker, Bryan (Lisa) Parker, Amy (Greg) Elliott, Steve (Julia) McMinimee, Mara (Mark) Zieske and Mark (Lydia) Birchard; 14 great-grandchildren; and five great-great-grandchildren.
She was preceded in death by her parents; her husband; two brothers, Sigward Jonson and Marvin Johnson; and her twin sister, Esther Naugle.
Eleanor's family invites her friends to join them for a celebration of life on Tuesday, June 30, 2009, at 11 a.m. at Our Saviour's Lutheran Church, in Sunnyside followed by a light lunch.
At her request, she will be cremated and her ashes will be scattered at the beach.
Remembrances may be made to Our Saviour's Lutheran Church Memorial Fund or to Lower Valley Hospice.
Smith Funeral Home in Sunnyside is in charge of arrangements.