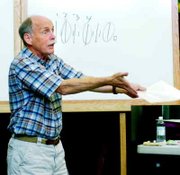 What is love? How can a girl know if a guy really likes her? How are men and women different? Why should youths wait to get married before having sex?
Those were just some of the questions answered yesterday by Brad Henning of Puyallup during a presentation called "Don't Take Love Lying Down."
It's a program he has presented to thousands of students around the country, but Tuesday the audience was teachers in attendance at the annual Summer Institutes held at Sunnyside High School.
As the title suggests, the program's goal is to encourage teens to abstain from pre-marital sex.
Both humorous and sobering, Henning's program comes from, in part, his experience with Young Life. At one point there were 1,000 kids in his Young Life program.
His presentation became popular through word of mouth to the point that today he has visited schools in 11 states, including talks to students in the Grandview and Prosser school districts.
Henning began yesterday by talking about some of the basic differences between boys and girls, men and women. "Why do girls hug when they see each other in the halls and the boys hit each other?" he asked amidst laughter from the crowd.
He said that stems from one of the differences, in that boys tend to be more impersonal and girls are more personal. Henning emphasized that doesn't mean all boys and men are one way while women and girls are another. Rather, the differences are general tendencies.
As to the definition of love, Henning said it is "choosing the highest good for the other person."
It's a basic definition, but one that kids today don't know about.
"It's not that kids are stupid," he said. "It's just that no one tells them."
By his definition of love, any pressure a boy or girl puts on another to do something displays the opposite of love, rather selfishness.
Henning also said what love is not. For example, it is not a feeling. He said it is not a "crevice," something that you fall into.
Another difference between the sexes, Henning noted, is that guys tend to be goal oriented, while girls are detail oriented.
He said that's another reason for girls to wait, because if they give in to a guy, he will see it as reaching a goal.
"Girls don't understand that easy girls get dumped because there's no challenge," he said.
As far as a girl knowing if a guy genuinely likes her, Henning said a telltale sign is if the guy is quiet. "You know a guy likes you when he quits talking to you," he said. That's because guys generally find it difficult to express themselves around a girl they really like, Henning said.
Other reasons for waiting to have sex include building trust and taking time to get to know the whole person. "When sex enters the room thinking leaves it," he said.
Henning also said a reason for waiting is so there is not guilt or fear later. He said waiting will help kids not be faced with abortions, pregnancies and STDs.
Henning issues a challenge to teens in his talks and shared it yesterday with teachers. He said that guys and girls should treat their dates like they would want someone to treat their future spouses.
Henning explained that the girl a guy is dating will someday be someone's wife. On the flip side, there's a guy out there dating his future wife.
To those students who are sexually active, Henning challenges them to a 10-week period of not having sex and limiting physical contact to a kiss.
He says many students don't last 10 weeks. A big reason, though, is that without the sex couples learn they really don't know each other or even like each other all that much. One girl e-mailed him to say her boyfriend broke up with her just 48 hours after the challenge was issued.
Henning may not be able to make his challenge to students in Washington state this fall, as he noted state legislation in the past year or so threatens to keep out all abstinence programs from the public schools.
Due to confusion in the legislation, Henning and his wife are currently in talks with lawyers to see how they might be able to continue their presentations.
"We don't want to jeopardize the schools," he said, noting visits to six schools have been canceled.
He encouraged teachers and the school district to still keep in touch with them.
"Don't stop asking us to visit," he said. "Kids are clamoring for this (information)."