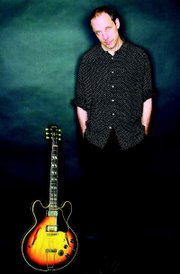 The latest effort from guitarist, composer and vocalist Joel Harrison is Urban Myths, a tribute to his childhood heroes he had growing up in Washington D.C.
The eight-track disc focuses on electric jazz and Harrison says the album is heavily influenced by such acts as Herbie Hancock, Chick Corea, Zawinul and Shorter, John McLaughlin, Frank Zappa and the legendary Miles Davis.
His goal, he wrote in the liner notes, was to fuse the music of jazz, funk, rock and the blues as one.
Not being an expert in several of the above mentioned disciplines it would be unfair of me to gander if he was successful at it. What I can say for certain is that Harrison is quite a guitarist and uses his band to provide just the right amount of subtle influence to keep the album from becoming boring.
The musicians are Harrison on guitar, David Binney (alto sax), Christian Howes (violin), Daniel Kelly (keyboards), Stephan Crump (bass), Ambrose Akinmusire (trumpet), Corey King (trombone) and Jerome Sabbag (tenor sax).
With so many instruments the songs are busy, but as I mentioned earlier, never boring.
You Must Go Through a Winter is the first song on the CD and although not a lot of guitar work is featured in the song the tune rips with a crazy ménage-trios of horns and the violin that I imagine has live audiences jumping to their feet when they hear it. It's a testament of how cool the violin can sound when played by a highly skilled musician.
125 and Lenox starts out slow but Harrison soon comes to the rescue with his guitar work on the song. His work really rocks the song up a bit.
Mood Rodeo is just that, a song that takes the listener in several directions, just like a bull will swing his rider in.
"It takes turns at being menacing, aerial, eerie and exuberant," Harrison wrote in the liner notes. "And there are times when Steven Coleman and Jimmy Page seem to be in the same room, while the rhythm section navigates with fluid certainty."
My favorite song on the disc is Last Waltz for Queva. Harrison's guitar work on the piece is blistering. The song was written for Queva Lutz, a lady who ran the 55 bar in the West Village from 1999 until her death in 2007. The two were obviously close and Harrison has only nice words for the late Lutz.
Harrison made the comment on his liner notes that the music he has created recently has had a serious tone to it and with this effort he wanted to have fun.
He has accomplished that. And with it he has made an album that is fun to listen to.