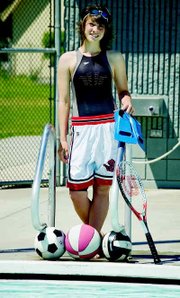 All Toni Castillo wants is a chance to pay it forward, pay back the Sunnyside community for all the opportunities it has given her.
Of chasing after the Miss Sunnyside crown, she said, "This is my way of giving back."
Castillo, 15, is the daughter of Tony Castillo and Carolyn Hazzard and she's determined to fill the gap for youngsters created by the city when it shut down parks and recreation operations.
"I want to promote health and fitness in my community," she said of her community service project should she be selected as Miss Sunnyside.
"As a youth in our community, I had the opportunity through parks and rec to do soccer, pee-wee track, t-ball and basketball camps. I was really sad to see parks and rec go."
She said she has spoken with city staff and there is a willingness to allow the Miss Sunnyside court the use of sports equipment should Castillo be selected as Miss Sunnyside.
She said the parks and rec opportunities "kept me out of trouble and gave me a good work ethic."
When asked how, she explained that she gets up at 4 a.m. to go to swim practice in Yakima. During the school year, she not only wakes early and goes to practice and school, but she's involved in varsity soccer, swimming and drama.
"I'm a 4.0 student, so grades are a priority," she said, adding, "I'm taking four (advanced placement) classes next year, plus swimming, plus basketball, plus the year-round swimming."
She added that she's involved in the Relay for Life, fundraising for the muscular dystrophy foundation, the leukemia and lymphoma society. While she says her mother builds her life around teen's schedule, she's often volunteering side by side with her father, who is a firefighter. "We also do stuff through the fire department. During Christmas and Thanksgiving we do baskets for needy families and deliver them by ambulance. The kids like that and (the firefighters) come out in Santa hats."
She added, "I like to be on the go."
But she is realistic about making sacrifices should she be selected to serve on the Miss Sunnyside court.
Of her the ability to maintain her grades, she said, "That was my main concern," she said, adding that the pageant advisor assured her that it's possible to maintain good grades and serve the community at the same time.
For the talent portion of the Miss Sunnyside Pageant, she'll perform a skit poking fun at the video game "Rock Band." Playing it, she said, "is a favorite leisure activity that me and my family do when we're all at home together. We enjoy it."
Castillo is currently eyeing the University of Washington to further her education, where she'd like to learn to become a pediatrician.
"I like kids, I love kids," she said.
Her favorite thing about living in Sunnyside is that everybody knows everybody.
"You walk down the street and you know everybody. It makes you more accountable."