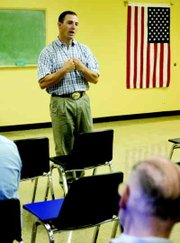 Strengthening education in Washington state and giving more power to local governments are two things Washington State Representative David Taylor wants to see in the future.
The 15th District lawmaker was in Sunnyside last night where he hosted a legislative town hall meeting, where he gave Sunnysiders a run-down of his first session in the House of Representatives.
Taylor was appointed to fill Dan Newhouse's vacant seat March 30 and Taylor said when he went to Olympia he was focused on three things, property rights issues, water issues and the budget.
Like most Washington state Republicans, Taylor is unhappy with the spending in Olympia.
"In just four weeks the projected budget deficit increased by nearly $2 billion," he said.
Taylor told the town hall attendees that the projected revenue in Washington state is at its highest ever but the state is still looking at a nearly $9 billion shortfall.
"It's a spending problem, not a revenue problem," he said.
He advocates a cut in spending and would like to see state government shell out money for only required services first. Once basic services are covered the state can go after the 'feel good' things later if there is still money to spread around.
Taylor said the House was forced to vote on the state budget after having only 12 hours to review the budget. Because of this he introduced House Bill 2386, also known as the 72-hour bill.
He said he knew it wouldn't get a hearing before the session ended but wanted to put it out there anyways. HB 2386 would require a 72-hour 'time-out' any time new legislation is introduced that has to deal with spending or raising taxes.
During the 72 hours the bill would be posted to the state's website where the public could review the document and still have time to contact their representatives and let their feelings be known.
"It's an effort on our part to get the information out," Taylor said.
He said the proposal has spurred some interest but he doesn't expect the bill to go anywhere.
"But it's out there," he stated.
Taylor outlined some of the good he thought came out of this past session. One thing was the fight to keep levy equalization money available for school districts.
He said the Sunnyside School District was projected to lose $2 million from their budget.
"Jobs would have been lost," he said.
He was asked if he saw any more cuts to the education system in the future and Taylor said he didn't think so.
"I believe if the Democrats suggest it there will be an open revolt," he added.
He told those in the crowd that Sunnyside has a 16.7 percent high school dropout rate, which is high compared to other communities in the valley.
"I don't get the difference," he said. "There has got to be a reason, but I don't believe it's the teachers. This is something that must be addressed."
He mentioned different tracking systems students might utilize to help with the dropout rate. This would mean that students who saw themselves working a trade would concentrate on classes dealing with that. Other students that wanted to go to college but not necessarily a university could be on a different track and those who want to go to university would be on yet another different track.
Taylor said this would stave off boredom of students who are taking classes they have no interest in.
He said he was proud of the fact that hydro-power was able to be listed as a renewable energy in the House for the first time. It was short-lived, he explained, because 12 hours later it was struck down in the Senate, "but we had it in there for a while," he added.
One of the bad things that came out of last session was the removal of a cap on tuition increases, according to Taylor. The cap was set at 7 percent but was removed without a limit being set.
Another disappointment to Taylor was the passage of a domestic partner bill. Calling it a nightmare, Taylor said his biggest problem with the bill is that it re-defines domestic partnerships to include marriage. Taylor believes there was no valid argument to the bill and that domestic partners could have accomplished what the bill lays out with a simple contract. He said he believes a public vote would support repealing the bill.
Taylor said that although taxes were not raised this year, fees have gone up, which is basically a tax. He noted that it is now more expensive to be born or die in Washington. Fees for birth and death certificates went up.
Taylor also advocates giving more control to local governments. Noting that these people are elected to make local decisions, he questioned why state government had to stick its nose in everything.
"These people can make good decisions," he said.
He went on to say that if local government officials mess up then it would be the voters that would take care of the situation in the next election.
Taylor said he wants to host town hall meetings at least twice a year, one before each session and one after.