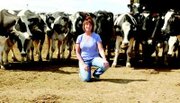 OUTOOK - The newest member of the state's beef commission is from right here in the Lower Yakima Valley.
Lori Wheeler, whose husband Jon manages Oord Dairy, was selected to the commission recently by Dan Newhouse, a Sunnyside resident and head of the state's ag department.
This isn't Wheeler's first public office, as she served five years on Yakima County's planning and zoning commissions.
Besides bringing experience in working on boards, Wheeler has both a dairy and beef background. Before she "fell in love with a dairyman," Wheeler was involved in fitting and showing sheep while in college. Her college externship was also centered on beef.
With her 30 years experience in the dairy industry, Wheeler will represent dairy interests on the beef commission.
Dairy and beef, she says, are "joined at the hip" with common interests.
"I just think that we collectively are looking for an opportunity to help create demand for beef," she said. "It's a great source of protein."
Wheeler's passion for the dairy and beef industries extends to the looming crisis she sees in world population growth.
At the same time she sees farm lands disappearing, creating a possible scenario where food, especially protein, could be in short supply a generation from now.
"We're not going to get farm land back," she said.
The beef commission's primary role is to educate consumers about the benefits of beef and market Washington beef both in-state and beyond.
"We need to globally compete," Wheeler said. "Washington has a high quality beef supply."
Wheeler also sees the need to be an advocate for beef producers and the land on which they work.
"As a local person who lives in the middle of a dairy I want what's best for farmers and the community," she said. "We work very hard to be good neighbors with our community."
Wheeler also says dairy farmers are "good stewards of the land" and focus on sustaining the resources they have. "It's a story that doesn't get told," she said.
As a new member of the Washington State Beef Commission, Wheeler intends to get the story out.
"It's an honor to serve," she said.