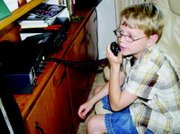 GRANDVIEW - He's only eight-years-old, but he has achieved a unique accomplishment.
Macuen Streubel is a licensed Ham Radio operator and has been for nearly a year.
The little moppet knows he is fairly unique among his peers. He is aware he is among the youngest licensed operators in the nation.
"The youngest person to get their license was six," Streubel said.
Both his parents are licensed Ham Radio operators. His mother, Mary, is a technician and his father Jason has his extra classification.
The sprite said his mother is training to obtain her general classification. Once she does so, she can help the younger Streubel train for his general classification license.
"But, I'm not ready for those, yet," he said as he hung upside down on the family couch, stating it took a lot of hard work to obtain his technician's license.
The youngster said, "It took away most of my play time, but I got to play a lot after the test."
He studied for 400 questions, of which only 35 needed answering to obtain his license.
"You have to understand the questions to get a license...Morse Code used to be a required element, but it has been dropped in recent years," said Mr. Streubel, stating the family is however learning Morse code together.
The younger Streubel said he enjoys getting on the radio to identify himself by his call sign. "There are three ways to say it, and I like to say them all," he stated, sharing with enthusiasm his identification is KE7WIC, Kilowatt Echo Seven Whiskey India Charlie or KE7 Whiskey India Charlie.
Mr. Streubel said the different identifications, which are essentially the same, are used according to whomever one is talking with on the Ham Radio.
"It's sometimes hard to remember the first part, though," said the younger Streubel as he fidgeted in his seat.
He said he hasn't been on the radio for a while, but when Wednesdays roll around, the family gathers around it to check in with others over the airwaves.
"He (Macuen) likes to check in for us, too," said Mrs. Streubel.
An event the young Streubel is eagerly anticipating is the American Relay League, which takes place this coming weekend.
Approximately 35,000 Ham operators nationwide participate in the event and will be on their radios operating on emergency power.
Mr. Streubel said the field day event helps refresh operators' skills in contacting as many other operators as possible.
"I get to stay up all night for it," said the younger Streubel.
The family joins together with fellow members of the Lower Yakima Valley Ham Club for the event. The club provides its members with support and a sense of community.
Mr. Streubel said each operator gets points for the number of contacts made during the American Relay League event and those points are verified by the Amateur Radio Relay League.
Ham radios are not like a CB. A person using a Ham radio must be licensed by the Federal CommunicationsCommission (FCC) because Ham radios broadcast over high frequencies...all of which the younger Streubel was eager to share.
"If you don't turn on the radio right, it won't operate correctly," said the youngster, adding one must have the appropriate transmitter to hear other operators, as well.
"People who have a general (license) or extra (license) can even talk to the astronauts," he added, popping himself upside down on the couch again.
Another tidbit the young Streubel provided as he hung from his legs is that Ham Radio operators are prohibited by the FCC from using emergency frequencies unless an actual emergency event is taking place.
"You can get arrested," he said jumping into an upright position, but his father corrected the statement and said the FCC can take away the operator's license if the rule is violated.
When asked how others interested in obtaining their license might do so, Mr. Streubel said contacting a local Ham operators club or a member of the club is the best way.
"All of them are very welcoming and would gladly help," he stated.
As for the bottle of energy, he thinks anyone who wants to become a Ham operator should.
"It's a lot of work to study for the test, but it's fun talking to other people on the radio," said the eight-year-old.