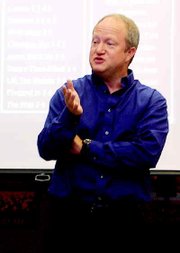 If telling kids to make good choices doesn't seem to work, then the solution is using visual cues to get the message home.
That's according to J. Allen of the Why Try organization, who spoke this past Friday to local teachers during the final day of the Summer Institutes training program.
One of the most commonly used images by Allen and Why Try is that of a roller coaster. Called the "Reality Ride," the picture shows one roller coaster ride that shoots up but has a big fall in contrast to a second roller coaster ride that starts low and gradually climbs up.
"Decisions have consequences," Allen told the teachers assembled at the Sunnyside High School library. The roller coaster image, he said, shows students just how a bad choice can lead to a crash.
But it's not just about decisions, it's also about the challenges students face at home, school and among their peers. The way students react to their challenges, he adds, can lead to bad choices.
"Because of your uphill challenges, what gets you in trouble?" he asks students.
Students are also asked to talk about their goals. The idea, says Allen, is to get kids thinking about the positive choices they'll have to make in order to reach the goal.
Why Try's original focus was to get the message to students in grades seven through 12.
The roller coaster and other educational imagery has been so successful that it's now been expanded to reach all the way to kindergarten. Prisons, too, are using the Why Try system.
"We're one of the few programs that's available from the playpen to the state pen," Allen laughed.
Students in the Why Try system are also asked to consider what happens after the temporary high of a bad choice, whether it be not doing homework or doing drugs.
"What is the crash that follows?" he asks. "Have you ever noticed the party always ends? You will always come down."
Schools, he noted, can help students by re-considering disciplinary measures.
Allen encouraged Sunnyside and other school districts, for example, to not simply suspend students for skipping school. "If you're sending kids home it's not working," he said of the need for other alternatives.
As for situations when students refuse to talk, the Why Try system suggests having them talk about the problems and issues facing their "friends."
In addition to using pictures, Allen says music is a key way to connect students to making good choices.
He noted that between the seventh and 12th grades students will listen to 10,500 hours of music, or 500 hours more than their entire time in school between first and twelfth grades.
The Why Try system is also used in several languages around the globe.
"We all have the same basic behavioral issues," he said.
More like this story