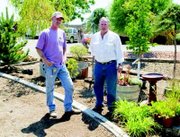 Lava Rock Nursery and Landscaping in Sunnyside is expanding to include curbing services to go along with their nursery and landscaping services.
Mike Allen, long-time owner of Allen's Curb and Landscape Borders, is now with Lava Rock and brings with him seven years of professional curbing experience.
Lava Rock Nursery and Landscaping owner Guy Auld said that by offering curbing he is offering more services to his customers.
"We believe there is a benefit to curbing for our customers," he said. "It tidies up their yard and keeps the weeds out of their flower beds."
"It really gives a finishing touch to what we do," Allen said of the curbing.
With Lava Rock Nursery and Landscaping absorbing Allen's business, the nursery gains three new employees, including Allen, which brings the number to 10. Auld said as business increases he can see hiring even more help to meet demand.
Besides installing concrete curbing for landscapes, Allen is also an expert in creating garden accessories out of concrete. Lava Rock Nursery and Landscaping is now creating its own patio stepping stones and garden benches.
"It's a real talent that Mike brings to the company," Auld said.
By offering customers concrete accessories on-site they will be able to save money because concrete is heavy, which makes shipping it expensive. Besides stepping stones and benches, Allen can make bird baths and planters. Allen is very artistic with his creations and can add a variety of different colors to the concrete and most designs.
Allen said he can make concrete look like just about anything, including tree bark, cobblestones or slate.
Both Auld and Allen have been working together since the beginning of the year and Auld said so far sales are ahead of last year.
"We attribute that to the expansion of our services," he added.
He's also focused on bringing in some more unusual plants that aren't offered at other nurseries in the area besides the more standard plants. Lava Rock Nursery and Landscaping has 11 acres with different plants, shrubs and trees available.