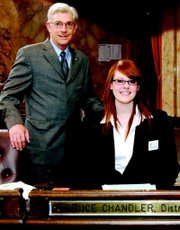 OLYMPIA - High school sophomore Madison Sartain of Grandview served as a page in the House of Representatives last week, Feb. 23-27. She was sponsored by 15th District state representative Bruce Chandler, R-Granger.
Originally, former Rep. Dan Newhouse was going to sponsor Sartain before he was appointed Washington's Director of Agriculture. Sartain is the daughter of Kathy and Rick Sartain of Grandview.
During her week in Olympia, Sartain attended page school to learn about the legislative process, assisted legislators on the House floor and delivered documents amongst the buildings on the capitol campus.
"The page program is a great opportunity for students like Madison to understand what we do here in Olympia," Chandler said. "I hope she will be interested in future civic involvement as a result of this experience."
Sartain introduced a mock bill in page school addressing the state's budget deficit by cutting some programs and raising taxes on cigarettes, liquor and card rooms.
Since 1891, students from around the state apply to participate in the legislative page program. Pages earn $35 for each day they serve in the program.
Interested students must be between the ages of 14 and 16, have permission from their school and a parent, and be sponsored by a legislator.
For more information about the House page program, visit www.leg.wa.gov/House/PageInternProgram/housepageprogram.htm