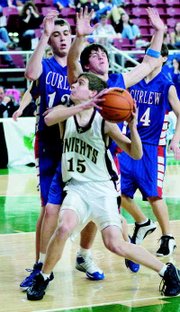 SPOKANE - The Sunnyside Grizzly boys basketball team found it tough going early and lost 60-45 to Shadle Park this past Saturday in 3A Regional action.
Shadle Park, a 4A State trophy winner last year, blitzed to a 19-6 first quarter lead over the Grizzlies and never looked back.
Luke Jordan poured in seven points in the opening stanza to spark Shadle Park.
"They hit a few shots, we made a couple of turnovers and they capitalized," said Sunnyside Coach Ron Rowe. "It was one of those games where you're in it, but if you make a couple of miscues they capitalize right away."
The Grizzlies went to their bench in the second quarter and used an 18-10 run to pull within 29-24 at the half.
"We got a good spark from our bench players, they gave us a great job," said Rowe, singling out reserves Jacob Bos, Tristan Abbott, Andrew Daley, Chance Graff and James Sanchez for praise.
"We had just a really strong defensive effort and that made some good things happen," Rowe said. "We went after them with an aggressive man-to-man defense and picked up the tempo a little bit."
Shadle Park opened its lead back up into double digits, all but icing the game with an 18-11 third quarter run.
Rowe said Shadle Park was again able to break down the Grizzly defense in the third quarter.
"They're a pretty good ball club, we broke down defensively and they were able to capitalize," the coach said.
Though the final score showed a double-digit loss, Rowe was happy his team kept things close in the ballgame against a squad that was a 4A State-caliber team just last year.
"Overall I was pleased with the effort of our players, we had some good moments," Rowe said.
Despite giving up a height advantage to taller Shadle Park, whose line-up included 6-5 guard Anthony Brown, Sunnyside was only outrebounded 28 to 25.
Alfredo De La Barrera hauled down seven boards to lead the Grizzlies in the paint, while Kyle Leija and Jordan Esqueda each cleaned the glass for five rebounds for Sunnyside.
Brown, who led Shadle Park in scoring with 16 points, collected a game-high 14 rebounds.
De La Barrera was the only Sunnyside player in double figures with 16 points to share game-high honors with Brown.
The Regional tourney now moves to Hanford High School. Not only will the Grizzlies be closer to home, they'll also play a familiar opponent, West Valley, this Friday in a 4:45 p.m. loser-out Regional tourney contest.
Sunnyside (12-12) has lost to league foe West Valley twice in regular season play and once in the postseason.
The secret to success in Sunnyside's third loser-out game in less than two weeks - and to finally getting the best of the Rams - comes down to a good start.
That's something the Grizzlies struggled with against Shadle Park. Rowe said if Sunnyside comes out with a slow start against West Valley it could spell the end of the Grizzlies' season.
"The big key is not to let them (the Rams) jump out to a big start," the coach says. "We just have to go out and play our best; give a strong effort all the way around."