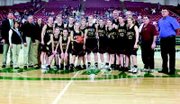 YAKIMA - Sunnyside Christian wrapped up its 2008-09 campaign with a third place finish at this year's WIAA State 1B Girls Basketball Championship, staged in the Yakima Valley SunDome.
The Lady Knights, this year's Columbia Gorge League and District 5 champions, compiled a 3-1 record at State, leaving Sunnyside Christian with an overall mark of 20-6.
This marks the fourth consecutive year Sunnyside Christian has trophied at State. Last year the SCHS girls placed sixth, were second in 2007 and earned a fourth place trophy in 2006.
After winning their opening round and quarter-final games last Wednesday and Thursday at State, the Lady Knights were dealt a 53-39 blow in the semi-finals Friday evening by the state's top ranked and undefeated Colton Wildcats. The 'Cats (24-0) went on to defeat North League rival St. John-Endicott by a 48-45 score in Saturday evening's championship tilt.
It would have been easy for Sunnyside Christian's girls to have hung their heads after the hard fought battle on Friday with Colton. Instead, the Lady Knights charged out of the gate quickly in Saturday afternoon's third/sixth place game against the St. Michael's Warriors, eventually subduing the fourth place finishers in the Panorama League by a lopsided 42-23 score.
Pacing Sunnyside Christian to the 19-point margin of victory was the duo of Hilari Bosma and Melanie Van Wingerden, who together scored 30 of their team's 42 points.
Bosma, a 5'6" junior, led all scorers in the game with a 17-point barrage. That included going 4-for-4 from behind the three-point arc.
"A couple of those 3's were set plays," said Lady Knight Coach Al Smeenk. "The two other shots, she just got open and hit them.
"Hilary wasn't feeling well earlier at State, but Saturday against St. Michael's she was on. She'll be one of our keys next season," Smeenk continued.
The senior Van Wingerden, the team's leading scorer this season and the latest of eight Lady Knight hoopsters who have topped 1,000 points playing for Smeenk, capped off her prep career with 13 points on 5-of-15 field goal shooting.
"Melanie is just a tremendous ball player," Smeenk said of the 5'10" Van Wingerden. "She has tremendous desire.
"I don't think I've ever coached anybody who goes harder for the ball when it comes to offensive rebounds.
"She just has a nose for the ball," Smeenk said.
Not surprising then, that Van Wingerden came away with 12 caroms against St. Michael's on Saturday, which powered the Lady Knights to a 49 to 40 rebounding advantage, despite the Warriors having two 6'0" players and a pair measuring 5'11" and 5'10".
"St. Michael's is the tallest team we've faced all year," said Smeenk. "Our game plan was to get the rebound and run, run, run."
Smeenk's crew also employed tough, in-your-face man defensive coverage that resulted in St. Michael's coughing up the ball 18 times, which directly led to seven points.
Saturday's third/sixth place trophy round game was never in doubt, as the Lady Knights jumped out to a 12-2 first quarter lead, extending that advantage to 22-6 at the half.
Smeenk went to his bench early and often after intermission, which allowed St. Michael's to stay within 15 or so points for the remainder of the game. Besides the 30 points dumped in by Bosma and Van Wingerden, Sunnyside Christian got four apiece from Erika den Hoed and Kelly Newhouse, two from Julie Long, and one point each from Joleen Van Wingerden and Renee Dalrymple.
The Warriors were led by Tori South, a 5'5" senior, who hit 5-of-11 field goal attempts enroute to scoring a team-best 11 points.
In Friday's semi-final contest against eventual State champion Colton, the Lady Knights' game plan was simple...prevent the Wildcats from launching shots from treyland. Colton routinely throws up 30 or more shots from downtown, but against Sunnyside Christian could only get off 14 of those bombs.
"They went 1-for-5 from behind the 3-point line in the opening half," said Smeenk, explaining how his club was able to fight to an 18-18 halftime tie.
Colton improved on those numbers a bit after intermission, hitting 3-of-9 long-range shots, but that wasn't the dagger that did in the Lady Knights.
"They have better athletes. They kept running and running," said Smeenk.
"It's not often we play a team that is better conditioned than we are, but that was the case Friday.
"The second half, we just got tired out. Colton's post player, she was consistently beating our players down the floor the second half," Smeenk said.
To make matters worse, the Wildcats have a very deep bench, and Colton Coach Clark Vining doesn't hesitate in going to his reserves.
"He just kept substituting them into the game. They didn't miss a beat...they were all in great shape," said Smeenk in detailing how the Wildcats broke open a 36-30 contest by outscoring his team 17-9 in the final quarter.
The Wildcats ended up being led by the trio of Kelsey Moser, Mollie Kramer and Courtney Druffel with 18, 15 and 10 points, respectively.
Sunnyside Christian got a team-high 18 points from the senior Van Wingerden, who made 7-of-16 from the field and 4-of-5 from the foul line. The only other Lady Knight in double figures was Long. She dropped in 11 points on 4-of-7 shooting, adding a 2-for-2 effort from the free throw line.