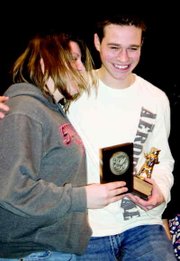 Sunnyside High School science teacher Joyce Stark pulled off the school district science fair awards ceremony with nary an explosion last night, Monday.
"I promised I wouldn't catch anything on fire tonight," teased Stark, who's known for her crazy antics during the awards ceremony. Last night, she limited herself to melting money in a beaker. She set up three beakers with different colored fluid in each and it was the yellow fluid that melted the money. Or was it money? Turns out they were mole bucks from Stark's Mole Day recognition this past October. The real bucks donated by the audience didn't melt, although Stark will have to dry out SHS Principal Brian Hart's $10 bill, as it was soaked in green liquid.
Following her stunt, Stark commenced with announcing local winners of the science fair.
Eric Desmarais took home the Grizzly statue, earning grand prize honors for his research in reducing radon concentrations using dicots.
Melissa Ehart took first place honors with her project titled, "Reduction of Carbon Dioxide in Classroom Environments." Ryan Rice took second place honors with his research in blocking wi-fi signals. Noemi Correa earned third place honors with her research of water quality in fresh water ponds in the Yakima Valley.
Earning honorable mentions at the high school were Chelsea Garcia, Eva Alvarado, Christopher Bestebreuer, Joanna Cruz, Abigail Estrada, Francisco Ramirez, Mario Sanchez and Ruby Solano.
"All of the judges were so impressed with our ideas," Stark said. Judges included community members, local teachers and teachers from other school districts.
Stark commended the students for their hard work. "It's really fun doing the experiments, but it's really hard to change all the information you get into results."
Tara Van Corbach's research into acne medications earned her first place honors at the middle school level.
Middle schooler Itzel Alvizo earned second place honors after researching hand creams and which ones retain the most moisture. Trajen Frank researched which drinks cause the greatest damage to teeth enamel, and for this he placed third.
Honorable mentions at the middle school level went to Claudia Marchen, Jose Torres, Lyndsee Anderson, Petra Dubek and Leah Diddens.
Twenty Harrison Middle School students participated, as well as two Sierra Vista Middle School students and 26 students from the high school.
Everyone will now trek to the Tri-Cities for regional competition on Thursday, March 12, and results will be made available the following Saturday.