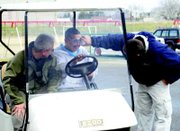 GRANDVIEW - It's alcohol and drug awareness week, and Grandview's Compass High School is providing its students with perspective into the effects of substance abuse.
Assistant Counselor and Merit Resources' Carolyn Schlax said the students are learning about substance abuse in the classroom and through a number of events scheduled throughout the week.
Yesterday (Monday) students were provided an opportunity to wear Fatal Vision goggles provided courtesy of the Grandview Police Department. Officer Mitch Fairchild was on-hand to supervise the youngsters as they maneuvered a golf cart and walked the halls of the high school while wearing the goggles.
Schlax said the staff at the high school believe it is important to educate students about the dangers of alcohol and drugs. As a result, Counselor Bob Thomas provided the golf cart to better impact awareness to the dangers of driving while under the influence.
Schlax said the goggles are disorienting and there are different goggles for both daytime and nighttime visual impairment. The goggles worn by students at Compass included a pair to simulate effects of functioning with a blood alcohol level of .07 to .10 and a pair for blood alcohol levels .17 to .20.
"When you put them on and walk, it's as though you are a few steps off-kilter," said Schlax. She has experienced the effects of the goggles first-hand and said she did not like them. "I can't understand how a person can drive when they are impaired," she explained.
In addition to the activity involving the goggles, students at the school will hear from guest speakers throughout the week. They are encouraged to wear themed attire and will cap off the week with a basketball game between the staff members and students at the school.
"The activities might be considered fun, but if one student is impacted and realizes the choices they make can lead to tragedy, we have done something good," said Schlax.