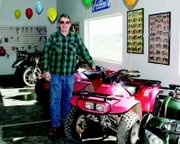 GRANDVIEW - Sam's Cycle Service, a long time fixture in Grandview, celebrated its November move into bigger digs with a ribbon cutting ceremony last Friday.
Opened in 1985, owner Dana Simsen moved his cycle shop from its long-time location at 122 Wine Country Road to its new location at 695 Wallace Way because he wanted more space.
Simsen sells motorcycles and all terrain vehicles (ATVs), both new and used. Prices range from as low as $500 for a used piece of equipment to $5,000 for the newer stuff.
Simsen said he started his business because he wanted to learn how to fix his own motorcycles. It just expanded from there. So much so that he had to make the move to a bigger location.
"I had too big of a back load in the summer," he said. "I had to turn away too many people."
With the move into the larger building Simsen said he is looking to hire at least two more people.
"We're currently taking resumes from people with at least five years of experience in repairing ATVs," his business manager, Shelly Richardson, said.
Besides selling ATVs and doing the necessary repair work on them, Simsen said he stocks a large supply of ATV parts.
Because of the move Simsen has also expanded his business to include marine watercraft and snowmobile repairs and services. This was done, he added, because he now has the space to support the new business.