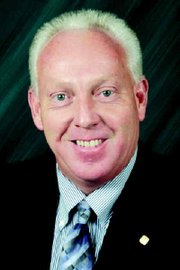 KENNEWICK - Sunnyside New York Life Insurance agent Bob W. Hall was recently named 2008 Agent of the Year in the Eastern Washington general office.
Craig Forman, managing partner of the office, recognized Hall for serving the insurance needs of his customers for 15 years. Hall was also recognized for outstanding sales and exemplary client service and professionalism.
Hall is a member of the insurance agency's President's Council and a qualifying member of the Million Dollar Round Table.
He is a graduate of Eastern Washington University, where he obtained his Bachelor's degree. He lives with his wife, Michelle, in Richland. The couple has three children.