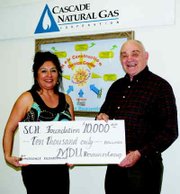 Sunnyside Community Hospital Foundation earlier this week received a gift of $10,000 from MDU Resources Group, Inc.
In recognizing the critical role of quality and accessible healthcare and human services in the Lower Yakima Valley, MDU Resources Group, Inc., the philanthropic arm of Cascade Natural Gas, has granted Sunnyside Community Hospital $10,000 for remodeling the emergency department.
Christina Rivas, New Customer Service Center Manager, presented the check from MDU Resources to SCH Foundation President, Dr. Jon Mercer.
"Being a part of...and keeping a community healthy is a major concern of Cascade (Natural) Gas", said Rivas, who serves on the hospital's governing board.
"Our company has always placed a high priority on community health and safety. We are delighted to be a part of Sunnyside Community Hospital's emergency department remodeling," she stated, explaining the department has already proven its need many times.
Rivas is proud that her parent foundation, MDU Resources Foundation, supports Sunnyside Community Hospital in its role of rural healthcare provider in the Lower Yakima Valley.
"Sunnyside Community Hospital Foundation Board is delighted to be chosen by MDU Resources to receive this grant," said Jon Mercer, Chairman of the Board.
"It takes everyone in the community to make a difference in community health. The remodeled emergency department at the hospital has been well received in the community," he noted, stating the refurbished department in its first year of operation has seen a more than 12 percent increase in patients, up from 17,500 to 19,600 patient cases.
Mercer added, "It has reduced the stress of dedicated staff who care for patients.
"The foundation is very grateful for this grant and to the many supporters in the Lower Yakima Valley whose gifts to the foundation made this up-to-date emergency room possible."