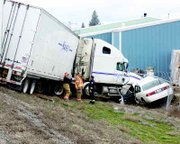 GRANGER - 72-year-old Marla J. Bellinger of Sunnyside suffered injuries yesterday afternoon, requiring hospitalization, as the result of a two-vehicle, head-on crash in Granger.
Washington State Patrol troopers report that Bellinger was driving a 2003 Buick LeSabre northbound on SR-223 at about 1 p.m. Tuesday, near the Bailey Avenue intersection. Her vehicle was crashed into head-on by a 2005 Freightliner semi-truck, which was southbound on the highway and crossed into the northbound lane.
The driver of the semi-truck, Robert E. Williams, 60, of Riddle, Ore., is facing a charge of negligent driving in the second degree.
Williams only sustained minor injuries and did not require transportation to a medical facility. Approximately $5,000 worth of damage occurred to his Freightliner semi-truck.
Bellinger's sedan was totaled and towed from the scene. The Sunnyside woman was transported by ambulance to Yakima Memorial Hospital.
Both drivers were wearing safety restraints at the time of the accident. It is believed that neither alcohol or drugs were to blame for the mishap.