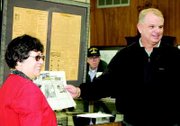 GRANDVIEW - Yesterday, Wednesday, the Grandview Herald celebrated its centennial with much fanfare, unveiling a restored and preserved first ever issue.
Today, the Grandview Herald is owned by John Fournier Jr., who also owns the Prosser Record Bulletin. Staff members from both newspapers were on hand for the big unveiling yesterday at the R.E. Powell Museum, as were numerous community members.
The first edition of the Grandview Herald was printed on March 4, 1909. Said Grandview Herald Reporter Barb Lauby, "It's rare that a weekly newspaper can have such a coincidence and such an opportunity to celebrate, especially in the same year the city is celebrating its own centennial."
Lauby, who led the effort to restore the first edition, said it's now properly preserved and protected, "To take it through its next century."
Finding the first edition proved to be a chore. Lauby had searched high and low for a copy, but met with little success until she was aided by museum staff.
Of the first edition, she said, "Take a close look at its stories. You'll find that the concerns haven't changed much-taxation, water, government, sports and advertising from local merchants."
There is a very significant typo on page one of the 1909 edition-the year says 1809, something present day publisher Fournier refers to as "type lice." He said, "Type lice are the gremlins that move things around at night after we close up...you itch to find and catch the little buggers."
Former Sunnyside Sun editor only referred to in 1909 editions of the newspaper as Mr. Hitchcock actually funded the enterprise in Grandview.
In fact, a March 5, 1909 edition of the Sunnyside Sun reads, "The first issue of the Grandview paper will come out this week. The paper promises to be a good one and merits the hearty support of the public.
"A newspaper is to a greater or less extent what the people make of it and we surely want our paper at Grandview to be a success."