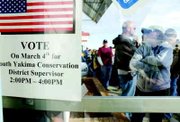 When voters in the South Yakima Conservation District boundaries vote for supervisors the turnout is normally small, according to Harriet Berg, election official for the supervisor vote.
But yesterday more than 200 people packed the South Yakima Conservation District offices in Sunnyside and overwhelmingly elected Steven Bangs from the Toppenish area to serve as the conservation supervisor for that area. The term is for three years.
"There is normally only a very small turnout," Berg said. "Yesterday the community came out in full force."
The likely reason for the large turnout is a rumor that surfaced. Word was...Yakama Tribal officials and environmentalists were teaming to place a candidate of their own on the ballot.
Bangs will serve on a five-member board of supervisors. While there he and the other supervisors will develop and implement programs to protect and conserve soil, water, prime and unique farm lands, woodlands, rangelands, wildlife, energy and other renewable resources.
Bangs was the only name on the ballot but voters did have the choice to vote for a write-in. Berg said no other names were ever submitted and Bangs won by a landslide.
He must still be certified by the conservation commission.