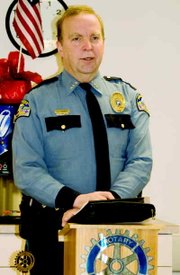 Do you want to know just how many identified gang members live in your neighborhood? Now, thanks to a new computer program, you can visit the Sunnyside Police Department and within seconds they can print out a pin map.
That's what Sunnyside Police Chief Ed Radder told Rotarians at Wednesday morning's daybreak meeting earlier this week.
"We have this computer program now that, literally, in a matter of seconds, we can print out where auto thefts, graffiti and people identified as gang members live," Radder said.
The tool's been useful in helping police learn crime patterns, too. Radder said that as they looked at a printed map, they noticed a 45 degree line of crime spurts. What they surmise is that gang members were taking the same route from point A to point B, wreaking havoc along the way. "We hadn't realized that before," Radder said.
Radder's goal was to update Rotarians on issues pertaining to the police department.
One tremendous issue, he said, is that construction on South First Street is slated to begin next week on Monday and the plan is that it will be completed in September.
"Start planning out your day and your travel so you can avoid that area," Radder said, encouraging people to avoid South First Street from Lincoln Avenue to I-82.
Radder also talked about graffiti. "We've got graffiti in some places more than others," he said, adding that trustees paint over it on public property, but on private property, service clubs have signed on to help out, like the SHS leadership class and Latino Club.
In terms of new equipment, Radder said in a couple months, if all goes well, a new system will be installed, so that when an officer makes contact with a person, any kind of contact, the officer will be able to pull up a comprehensive history of interaction that individual has had with any law enforcement personnel in the state of Washington.
Radder also noted there's been much more rapid prosecution lately.
"Recently, we've had several convictions that have taken place within 90 days (of the crime)."
Radder touched on auto thefts, too, which he said are down 53 percent, thanks to overtime funding from the state police officer and sheriff's association. He said officers are looking out in the morning for people who leave their cars running in the driveway and explaining to them how easily the car is to steal. He said that most auto thefts occur when the owner leaves the car running to warm it up.