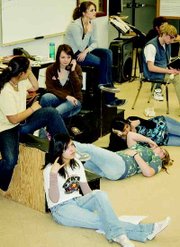 GRANDVIEW - Grandview High School drama students are gearing up for April and May productions of "Bye, Bye Birdie," a play set in the late 1950's-early 1960's.
"It's kind of a parody on Elvis going into the military. A man who gets the same kind of reaction from adults and teenagers," explained GHS drama director Melanie Manship. "Only I don't think Conrad Birdie is anything like Elvis. He's a slob and a womanizer. He's not anything that a parent would want around their child! He's got some pretty bad habits."
In fact, in one of the lines of the play, Birdie is described as a "greasy, bongo-playing car thief."
One interesting fact Manship noted about the play is that due to the era it was written in, smoking cigarettes was not the taboo it is today, therefore it's mentioned a lot. In one line of the play, a teen is instructed to put off taking up smoking until she's 14 years old.
Manship said it will be interesting to see how the audience responds to it, because of things like that. "The bottom line is all kids are innocent kids. They don't really do anything, they just talk about it. I honestly think "Grease" is racier than this (play)."
Jake Wagner plays rock star agent Albert Peterson and his secretary Rose Alvarez is played by Rosario Ayala. The teen female lead Kim McAfee is played by Amanda McLean. Her friend, Ursula Merkle, is played by Kassie Bernal. Kim's parents, Doris and Harry McAfee, are played by Josie Harrington and Alejandro Arteaga. Albert's overprotective mom, Mrs. Mae Peterson, is played by Maria Orozco. Rock star Conrad Birdie is played by Nick Valle.
Other cast members include Brendon Lynch as Randolph McAfee. Chavez Espinoza plays Kim McAfee's boyfriend Hugo Peabody. Courtney Durado plays Gloria Rasputin, a sexy secretary, and Joshua Raymond plays nerdy guy Harvey Johnson. The mayor of Sweet Apple, Ohio is played by Tolan Barrett and his wife is played by Josie Mahre. Ranelle Kalaw plays Mrs. Merkle, Ursula's mother.
Production dates for the musical are slated for April 24 and 25 and May 1 and 2 at 7 p.m. at Grandview Middle School. Tickets cost $6 for adults and $3 for senior citizens and students.
One exciting item worth mentioning is that student actors participating in the drama will be critiqued by Seattle's Fifth Avenue Theater Company and considered for that entity's annual awards banquet, which honors high school actors with such trophies as "Best Actress."
"It's a bit like the Academy Awards (for high school actors)," explained Manship.