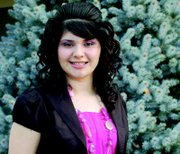 I wanted to try something new," Sunnyside High School junior Jessica Mendez says of becoming a candidate for Sunnyside's Miss Cinco de Mayo crown.
She says she was encouraged to give the 2009-10 court a try by Rubi Chavez, one of the current court princesses.
Mendez, 17, says she likes the way the Cinco de Mayo courts help out in the Sunnyside community.
If selected to wear the Miss Cinco de Mayo crown, Mendez said her community service project will be to help out the local food bank.
Mendez said she'd also like to find ways to keep kids off the streets by providing activities.
The daughter of Daniel Mendez and Martha Munguia, Mendez carries a 3.48 grade point average at Sunnyside High School.
Mendez says her favorite classes at Sunnyside High School are American history and body conditioning.
Her school activities include Trio, which helps students look for scholarships. In her spare time Mendez also attends Sunnyside Beauty Academy.
The beautician training, Mendez says, is to give her a trade so she can help support herself while at college after high school. Right now she's considering attending either WSU or UW and majoring in business.
Dancing is a hobby for Mendez, and it's one she'll explore during the Miss Cinco de Mayo Pageant talent program. She says she plans to dance to Spanish music.
Mendez says she enjoys meeting new people. That trait has been enhanced by her experience in rehearsals for the Miss Cinco de Mayo Pageant on Friday, April 17, at 7 p.m.
"I've learned to be more outgoing," she says.
Mendez also credits her parents for their guidance along the way, both in life and in the goal of becoming the next Miss Cinco de Mayo.
"They're really supportive," she says. "They tell me to keep going, not to give up."
Tickets go on sale for the Sunnyside Miss Cinco de Mayo Pageant on Monday, March 9. They are available for $8 at the Sunnyside Chamber of Commerce office.