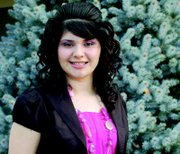 TOPPENISH - For 18-year-old Misty Mahkee of Toppenish, this is her second go-round as a rodeo queen.
The senior at Toppenish High School was named the 2008-09 Yakima Valley Fair and Rodeo Queen last August and before that, was the queen of the Yakama Treaty Days Rodeo in White Swan.
"It was fun," she said of her experience in White Swan. "I met a lot of people and went to a lot of rodeos."
Her reign ended in June of 2008 and when she heard that the organizers in Grandview were having trouble attracting contestants for the title of Yakima Valley Fair and Rodeo Queen, Mahkee decided to give it a shot.
The day of the tryouts one other girl showed up to compete and both of them showed off their horse riding skills, answered impromptu questions and displayed their public speaking skills.
On the day organizers were to pick the queen it was only Mahkee who showed up, guaranteeing her the title.
"I was surprised," she said. "I didn't know what to expect."
She's been the queen since August but hasn't been to a lot of rodeos or parades so far, as it isn't quite the season for these events, she explained.
Some events she has participated in have been a silent auction for the Yakima Valley Fair and Rodeo in Grandview last September. She has also been a guest at the Cattleman's Convention. She said she was there just to look pretty and that the food was good.
The most exciting event she attended is when she helped promote the Brad Paisley show on March 1. Helping radio station KXDD 104.1 promote the show, Mahkee said she stood outside in the cold holding a sign encouraging passer-bys to listen to the radio station.
"It was really cold that night," she said. "It was raining."
But it was all worth it as she got to see Paisley in concert later that night.
"I love all his songs," she said. "I had really good seats. It was awesome."
Mahkee will attend the Miss Yakima Pageant next week and is looking forward to the parade season starting in April. So far, she is enjoying herself.
"I'm having fun so far," said.