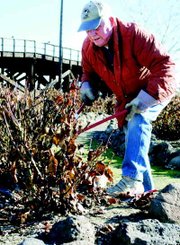 GRANDVIEW - Community volunteers have been pruning and cleaning the Grandview Rose Garden on Saturdays in an effort to prepare the historic memorial for spring blooms.
Joyce Dickson said it is a labor of love to work in the rose garden.
She and Terry Daniel both work on the roses throughout the year. Daniel said there are 750 roses in approximately 28 beds. "It takes one person 12 hours to prune nine beds," he stated.
Dickson said many of the roses have been planted in memory of former Grandview residents and pointed out five planted in memory of Matt Emery, a serviceman who died in Iraq.
She said approximately 100 of the roses will soon be transplanted to the east entrance of the city limits, and that saddens her. She does understand the need for additional parking in the area where the garden is now located, however.
Each year Daniel and Dickson gather with other community members to clean out debris and prune the roses. Last year, Daniel spent approximately 200 hours caring for the garden and he said, "I call it a pleasure...you get the opportunity to meet so many nice people while working on the roses."
He said the rose garden is not only a memorial, it serves as an attraction for visitors and a variety of community members. He been present for photographic moments and said bridal parties, high school seniors having senior portraits taken and quinceanera celebrations often are held at the rose garden.
The earliest plaque in the rose garden dates its establishment in the early 1950s. The garden began as an effort of a ladies group in the community and has since been cared for by city officials and a number of residents.
Efforts will continue in preparation for the spring and summer this coming Saturday, March 14. Community members wishing to help care for the roses can arrive at 9 a.m. to volunteer their time.